Posted on
Thu, Mar 8, 2012 : 2:30 p.m.
Barbecued pork sandwich with fennel - a hearty and delicious slow-cooked dinner
By Mary Bilyeu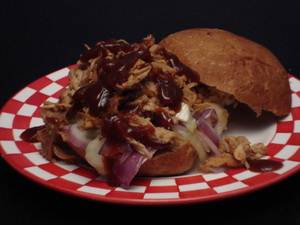 Mary Bilyeu | Contributor
I found a pork loin on sale at the grocery store recently, so I simply had to buy it. I had no idea what I'd make with it, since I hadn't anticipated blundering into such a great deal. But when one is granted a moment of serendipity, one simply follows along.
The next morning, I cut the roast into 4 portions and seasoned it simply before placing the pieces into my crockpot. Then I peered into the refrigerator and concocted a sauce for it to linger in throughout the day. I love crockpots — you come home from work, dinner is ready and waiting, and the house smells amazing as though someone has been cooking all day just for you.
The pork became tender and fragrant, practically dissolving into shreds. I had many ideas for ways to enjoy it, but was so enticed by temptation that I didn't want to spend a lot of time preparing anything. I gave very serious consideration to simply standing over the crockpot with a fork, but decided that this was a tad too bachelor-like to suit me. I'm kinda prissy: I like little details like wine glasses and cloth napkins.
So I simply sauteed some fennel (I'm still on a mission to get others to like it as much as I do!) and red onion - crunchy complements to the tender pork. A little drizzle of barbecue sauce, and a quick, hearty and delicious dinner was ready!
BBQ Pork Sandwich with Fennel and Onion
2 tablespoons extra-virgin olive oil
1 large head fennel, stems trimmed, halved, sliced thin
1 large red onion, halved, sliced thin
1/2 teaspoon kosher salt
generous sprinkling of freshly ground black pepper
4 whole wheat sandwich rolls
3 cups shredded barbecue pork (see recipe below or pre-purchased)
1/3 cup barbecue sauce
Heat the oil in a large skillet over medium heat. Add the fennel, onion, salt and pepper; saute for 10 minutes, stirring occasionally, until the vegetables are tender and lightly caramelized.
Place the bottoms of each roll onto 4 plates. Divide the vegetable mixture among the rolls, and divide the pork among them as well, placing it on top of the vegetables. Drizzle the pork with barbecue sauce, then cover with the tops of the rolls.
Serve immediately. Makes 4 sandwiches.
Crockpot Pork Loin
1 4-pound pork loin roast, cut into 4 pieces 2 teaspoons kosher salt 1/2 teaspoon freshly ground black pepper 1/2 teaspoon onion powder 1/2 teaspoon garlic powder 1/3 cup barbecue sauce 1 tablespoon teriyaki sauce 1 tablespoon white wine juice of 1 small orange 1 teaspoon harissa or other hot sauce
Season the pork with the salt, pepper, onion powder, and garlic powder. Place 2 pieces into the crockpot. Combine the remaining ingredients and pour half of the sauce over the pork. Place the remaining pork into the crockpot and pour the rest of the sauce over it. Cover and cook on "low" for a minimum of 8 hours. Shred the meat with a fork, stirring to incorporate the liquid.

Mary Bilyeu writes about her adventures in the kitchen - making dinner, celebrating holidays, entering cooking contests ... whatever strikes her fancy. She is also on a mission to find great deals for her Frugal Floozie Friday posts, seeking fabulous food at restaurants on the limited budget of only $5 per person. Feel free to email her with questions or comments or suggestions: yentamary@gmail.com.
You should also visit Mary's blog — Food Floozie — on which she enthuses and effuses over all things food-related.

The phrase "You Should Only Be Happy" (written in Hebrew on the stone pictured in this post) comes from Deuteronomy 16:15 and is a wish for all her readers - when you come to visit here, may you always be happy.