Posted on
Thu, Jan 26, 2012 : 2:50 p.m.
Beer-Braised Pork Loin Roast with Apple-Kraut a toothsome dish with a sumptuous sauce
By Peggy Lampman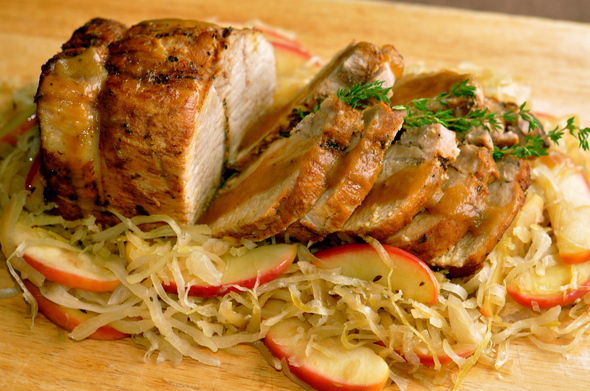 Peggy Lampman | Contributor

mean fighting machine!
The past decade in America has witnessed a food culture smitten with anything to do with the pig, with locavore enthusiasts staging snout to tail dinners and bacon being infused into everything from ice cream to bourbon. Ann Arbor could rightly be named capital of this porkcentric nation; local business owners priding themselves on offering us a plethora of porkishly delicious treats, which blaze a mouth-watering trail across the city.
One could begin a porcine odyssy with a juicy pulled pork sandwich at Satchel's Barbecue on Washtenaw. As their web site says, just follow your nose to the wood burning smoker. Then head west to South State to the recently opened Beircamp located next to the Produce Station, whose specialties include marvelous artisan sausages.
A short drive from there to mid-town (in warmer weather) will land you at Mark's Carts, where Humble Hogs offers a headcheese that will bring you to your knees. A few blocks north from the carts is Kerrytown, where Sparrow Meats makes their pancetta from scratch. (I'm just warming up.)
Now, head up Huron to Stadium and hit Zingerman's Roadhouse; not only do they raise their own hogs for most pork items on their menu, but Zingerman's hosts "Camp Bacon," drawing an audience from around the country every summer. After a lip-smacking slab of ribs, hop in your car and head south on Stadium, where you'll find me shopping at Arbor Farms for today's recipe — I need a top drawer pork roast and advice on which beer to use for braising.
Robert Cantelon, managing partner at Arbor Farms, takes enormous pride in the pork sold at their store. "We only sell a premium line of all-natural pork, the main differentiator being the humane way these hogs were raised and harvested. Pigs are social animals, they like to forage and root around — they're healthy when they're allowed to do just that. A happy pig is a healthy pig."
Robert explained the science behind this statement, and why the pork he sells is a tasty and healthy option.
"The high PH value and neutral alkaline level of the meat insure the pork we sell will be delicious. High acidic levels in a hog result in white-fleshed pork which is less tender and lacks flavor."
Fanning his hand across the meat cooler, he pointed out the sausages, ribs and chops, and drew my attention to the pork shoulders (aka, Boston butt), which he says are a particular customer favorite.
"Our pork is not white; it's more of a pinkish, amber color. Much is sourced from Michigan farms, but we also use a premium pork from Iowa, developed by a leading pork scientist at Iowa State University who believes that hogs should do what hogs are naturally inclined to do. This, in turn, ensures a happy hog and a flavorful, healthy product.They were raised on whole grains, forage and lots of sunshine."
Aside from a more satisfactory eating experience, I, personally, feel better about eating meat that was humanely raised.


I love the flavor of pork cooked in beer, particularly beer brewed in Michigan, and Michelle Zajac, the beer and wine manager at Arbor Farms, is my go-to person. Last year she recommended I braise my recipe for pork Brats Wrapped In Bacon in a malty, rather than a hoppy brew. She said a malty beer would amplify the sweetness in the pork, and a hoppy brew would contribute bitterness. The Grand Rapids produced Founders Beer she selected for me was perfect.
I told her of my current plans to braise a pork loin in beer combined with apples, and she recommended The Good Samaritan amber ale from Short's Brewerey, which is brewed in Elks Rapids with apple cider. "The cider flavor will be perfect," said Michelle, "And there's a bit of spiciness from the yeast, which will play nicely off the pork."
Michelle's recommendation was, again, spot on. The amber ale lent marvelous yeasty notes to the toothsome roast, and resurrected itself into a sumptuous sauce when puréed with apples and onions. It was marvelous spooned over the pork, which had a sweet, clean taste — a porkalicious, happy flavor — thanks to a happy pig.
Yield: 4-6 servings
Active Time: 50 minutes (including Apple-Kraut)
Cook Time: 60-90 minutes
Ingredients:
1 tablespoons paprika
1/2 tablespoon kosher salt
2 teaspoons freshly ground pepper
3 tablespoons olive oil
1 1/2 tablespoons fresh thyme, plus extra for garnish
2 teaspoons finely chopped garlic
1 tied pork loin roast, 3-4 pounds (apx. 4-5 inch width)
2 cups chopped onion
3 cups peeled and chopped apples*
12 ounces dark beer
2 tablespoons maple syrup or brown sugar
*I used Gala apples, which were perfect but Macintosh, Granny Smith, Jonathan or any good cooking apple may be used.
Directions
1. Preheat oven to 350 degrees.
2. Make a wet rub by combining paprika, salt, pepper and 2 tablespoons olive oil. Remove 1 tablespoon of rub, combine with thyme and garlic and reserve; rub remainder of rub, minus the garlic and thyme, into exterior of pork. Rub the garlic-thyme seasoning mixture in between the two pieces of tied loin. (The garlic and thyme would burn when seared in hot oil.)
3. In a Dutch oven or other heavy-bottomed pan large enough to accommodate roast, heat remaining tablespoon oil over medium high heat. Brown roast on all sides, about 10-15 minutes. Remove roast from pan and reserve. Deglaze pan, continuously whisking, with 1/4 cup of beer. Stir in maple syrup and reduce heat.
4. Sauté onions and apples in mixture, stirring occasionally, until softened; stir in remaining beer. Center pork in the middle of apples and onions in pan or Dutch oven and cover tightly with aluminum foil and lid. Bake 1 to 1 1/2 hours, depending on size of roast, or until pork is tender, but not over-cooked. (I remove mine when it temps at 140 degrees; the temperature will rise as it sits. Pork loin roasts are leaner than other cuts, so take care not to overcook it or it will be dry.) While pork is roasting make Apple-Kraut; recipe follows.
5. Remove strings from pork. Place pork loin on a serving platter and tent with foil to retain heat. To make a sauce, purée pan juices, apples and onions in a blender or food processor.
6. Slice pork and serve with apple-onion gravy and Apple-Kraut.
Ingredients for Apple-Kraut

1 tablespoon butter
1 medium sized onion, thinly sliced
1 tablespoon maple syrup or brown sugar
2 apples*, washed, cored, then thinly sliced
4 cups sauerkraut (not from a can), rinsed
2 teaspoons caraway seeds
1/2 cup beer or apple cider
Directions for Apple-Kraut

1. Over medium low heat, heat butter or oil. Add onions to pan and sauté with brown sugar and a pinch of kosher salt 10 minutes, stirring occasionally.
2. Raise heat to high, then deglaze pan with 1/4 cup of the reserved beer or apple cider. Stir, let reduce a minute, then add sliced apples to the onion mixture.
Simmer an additional 10 minutes, or until apples are tender but not falling apart. Stir in rinsed sauerkraut, caraway seeds and remaining beer. (May be made a couple of hours in advance, up to this point.) Heat through before serving.
My new web site has recently been launched (www.dinnerFeed.com)! I'm a real-time food writer and photographer posting daily feeds on my website and in the Food & Drink section of Annarbor.com. You may also e-mail me at peggy@dinnerfeed.com.