Posted on
Sat, Nov 19, 2011 : 11 a.m.
Beer pairings for a Thanksgiving day feast
By Nate Parsons
Thanksgiving is around the corner, and many will be hitting the grocery store to stock-up in preparation for the national day of gluttony. On a day where the table swells with dozens of dishes, how does one choose the appropriate beer for the occasion?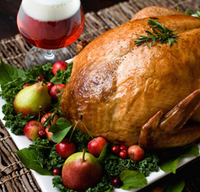 The good news is there is no wrong answer, since beer pairing is more art than science, and beauty is in the eye of the beholder. A rule of thumb for a successful pairing is that the drink should complement the food with either a contrasting or similar flavor profile.
The challenge is that pairings work best with a singular soul mate like an artisan cheese or a lush dessert. The Thanksgiving experience is hardly a monogamous encounter, making it a challenge for any beer connoisseur. Fortunately, with the right lineup, beer can win over the ardent wine lover when the most important meal of the year is on the line.
Aperitif:
When guests arrive, hand them something crisp, cold and refreshing. Something from the pilsner family is a good fit. It will heighten the senses, stir up an appetite, and won't dull the palate with excessive alcohol. Furthermore, the clean finish will cut through any salty snacks circling the room.
Pilsner Urquel - Light straw in color and crystal clear. Aroma is floral with a taste to match, and it finishes with a hint of clean spice.
Victory Prima Pils - A tasty lager with a hoppy floral taste. Crosses traditional Bohemian flavor with Yankee ingenuity for a well-balanced lager.
Appetizer: Depending on the venue, this course can be a challenge for the beer aficionado. Think something midrange with citrus tones that cleanses the pallet without scraping the throat... sorry no hop bombs here. These two offer earthy tones that compliment a wide range of fare without stealing the show.
Saison Dupont - Nice aromatics and a hazy straw hue, well-seasoned but not overpowering. Hints of citrus, white pepper and clove are balanced with a hit of prickly carbonation for a quenching finish.
Hennepin Farmhouse Ale - Rustic in scent with an earthy palate cut by tangerine spice. Sweet malty flavors interplay with citrus tones and the lively carbonation tickles the tongue.
The Main Event: Typically a bold offering works here, something worthy of the 36-hour lead time required pull to off such a beastly event. A muscle beer from the cellars of a Belgian monastery seems appropriate for the occasion. No doubt either of these recommendations will impose their will but also court the complexities of flavors found in an all-out feast.
Westmalle Trappist Triple - Sweet bready malts mingle with spices to deliver a well-balanced high octane offering. The finish warms the mouth with drying alcohol, and the carbonation cleanses the back of the throat.
Orval Trappist Ale - Considered dry ale, it pours a dusty orange and boasts a rocky three-finger head. The mouth is sweet with dry fruits, but the clean finish will leave taste buds pining.
Dessert: Whether it's pumpkin, pecan or sweet potato pie, there are number of offerings that will compliment this course. Some enthusiasts push for a sweet beer such as Chimay Grande Reserve' or a fruit infused Lindamans Framboise. Others may prefer the bitter bite of coffee found in Lagunitas Cappuccino Stout Ale or Founders Breakfast Stout. If an early exit from the table is appealing, head to the sofa with a bottle of dessert in time to catch the opening drive.
Brooklyn Chocolate Stout - Infused cocoa is the backbone of this robust black stout. Rich chocolate spreads across the palate before roasted malt thins out the sweetness. The finish offers a hint of plum before exiting on a bed of dry cocoa.
Southern Tier Pumpking Ale - An intense offering worthy of the imperial moniker. Deep full bodied offering dominated with sweet nutmeg, cinnamon and ginger. Creamy malts coat the mouth, finishing with a rich presence.
Pairing beer with food is not an exact science, but these selections should offer direction when looking to impress the relatives at this year's sit down. All the offerings mentioned can be found at Ann Arbor's finest. Cheers!



The Beer Depot, 114 E. Williams St., Ann Arbor MI


Main Street Part Store, 201 N. Main, Ann Arbor MI


The Wine Seller, 2721 Plymouth Road, Ann Arbor MI


Plum Market, 375 N. Maple Road, Ann Arbor MI


Super Liquor 4, 3666 S. State St., Ann Arbor MI
Nate Parsons is a contributor to AnnArbor.com and can be reached at modevin@yahoo.com.