Posted on
Wed, Jan 18, 2012 : 4:05 a.m.
Braised Baby Bok Choy in Oyster Sauce with Sticky Black Rice a light but satisfying dish to celebrate the Chinese New Year
By Peggy Lampman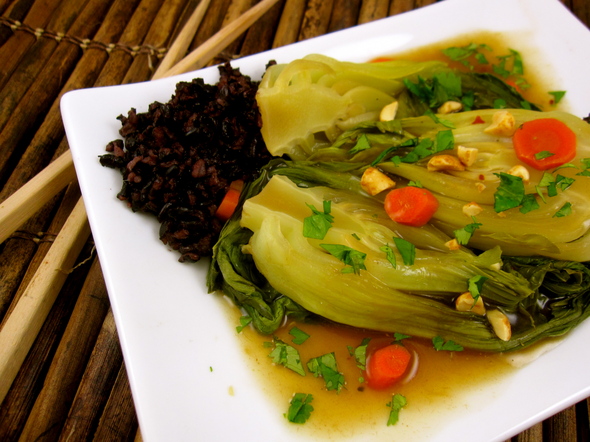 Peggy Lampman | Contributor

mean fighting machine!
Here's a healthy, (almost) vegetarian recipe to usher in the Chinese New Year on Monday. When I'm craving food with a lighter touch, I often turn to braising or steaming. I didn't use so much as a drop of oil when making tonight's dinner.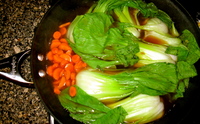 I used carrots in the recipe because, basically, they need to be used, but peppers and scallions would be a fine substitute. The black sticky rice I paired with the dish was purchased at Spice Merchants in Kerrytown.
My main regret with the recipe is I didn't have shiitakes to add; their flavor is marvelous when paired with oyster sauce. I make another recipe similar to this that incorporates tofu, if you'd like a punch of protein in your dish.
Yield: 2-3 main course servings
Time: 25 minutes (plus time to steam the rice)
Ingredients
3 cups chicken or vegetable stock
2 tablespoons soy sauce
2 1/2 tablespoons oyster sauce
3-4 bunches baby bok choy, halved

1/2 cup diced carrots (2 carrots)

1 tablespoon grated or minced fresh ginger
1/2 teaspoon red pepper flakes

1 tablespoon rice wine vinegar

1 1/2 tablespoons cornstarch

3 tablespoons chopped cilantro
1 tablespoon chopped peanuts, optional
Cooked Asian rice (I used black sticky rice)
Directions
1. In a deep-lipped saucepan or wok large enough to accommodate the bok choy, bring stock, soy and oyster sauce to a simmer. Add bok choy, bring to a simmer again and cover for 4 minutes. Add carrots and simmer an additional 2-4 minutes, depending on size of bok choy, or until bok choy is just tender. 

2. In a small bowl, whisk the vinegar and cornstarch until smooth. Remove bok choy from stock and then whisk the cornstarch mixture into the seasoned stock; stir in red pepper and ginger. Continue to simmer until mixture has thickened. Reheat bok choy in the sauce. Serve bok choy with rice and sauce and sprinkle dish with chopped cilantro and peanuts, if using.
My new web site has recently been launched (www.dinnerFeed.com)! I'm a real-time food writer and photographer posting daily feeds on my website and in the Food & Drink section of Annarbor.com. You may also e-mail me at peggy@dinnerfeed.com.