Posted on
Fri, Jan 20, 2012 : 4:21 a.m.
Wilted Insalata Tricolore a fantastic side dish for chicken and a crusty baguette
By Peggy Lampman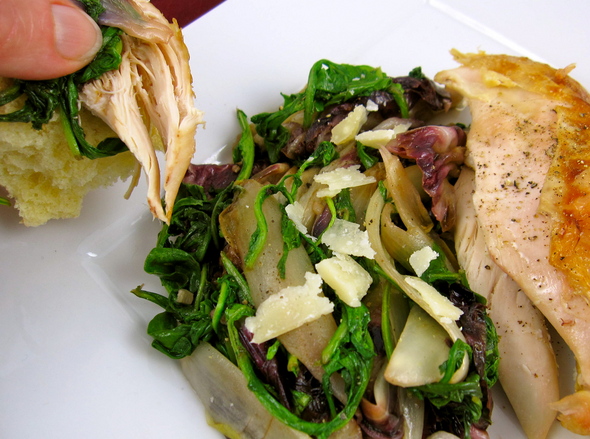 Peggy Lampman | Contributor

mean fighting machine!
I picked up a rotisserie chicken and baguette and thought this classic
Italian salad
would be a great accompaniment.
It's cold out there so I prefer my salad warm. But of course you don't have to sauté the greens; simply follow the recipe skipping that step and make a vinaigrette with the olive oil, vinegar and garlic. I served this with a rotisserie chicken, purchased from Whole Foods deli. I especially enjoy loading the chicken and greens onto a piece of crusty, freshly baked bread.
Yield: 4 servings
Time: 10 minutes
Ingredients
1 head raddichio, washed and sliced or torn into large pieces
8 cups loosely packed arugula,washed and trimmed of tough stems
2 heads belgian endive, washed, trimmed and sliced lengthwise into 3/4-inch slices
2 tablespoons extra virgin olive oil
1 teaspoon minced garlic
1-2 teaspoons balsamic vinegar
Grated Parmigianno Reggiano
Directions
1. Wash the radicchio and arugula, tear into pieces and gently dry in a salad spinner. Rinse the endive and pat dry with a paper towl.
2. In a large sauté pan, heat olive oil over medium heat and sauté garlic until fragrant, about 1 minute.
3. Add raddichio and endive to oil and saut&eacuate;, with a pinch of kosher salt, 2 minutes, stirring. Add arugula to pan and sauté until just wilted. Toss with 1 teaspoon balsamic vinegar, adding more to taste, if desired. Top with freshly ground pepper, Parmesan and serve.
My new web site has recently been launched (www.dinnerFeed.com)! I'm a real-time food writer and photographer posting daily feeds on my website and in the Food & Drink section of Annarbor.com. You may also e-mail me at peggy@dinnerfeed.com.