Posted on
Mon, Apr 2, 2012 : 11:55 a.m.
Brisket with tomato sauce and olives - a traditional Jewish dish that showcases surprising Mediterranean flavors
By Mary Bilyeu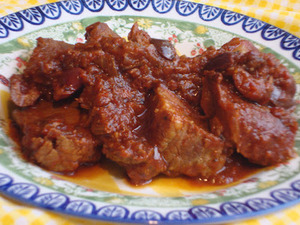 Mary Bilyeu | Contributor
I was recently honored and thrilled to be one of the judges at the third annual Brisket Bake-Off hosted by the Sisterhood of Temple Beth Emeth. It was a fabulous time, filled with excellent food and wonderful friends both old and new. To read about the adventure, go to my blog — Food Floozie — today for all the details.
One of the entries came from Miriam Shaw, who just happened to sit to my left during the dinner which followed my judging duties. Her brisket was notable among the 10 offerings because it had featured Mediterranean flavors, rather than traditional onion-based gravy. (Briskets made with Lipton onion soup mix are famous and beloved from childhood!)
Unfortunately, Miriam's brisket — from a recipe she'd found in Cooking Light — didn't win one of the prizes. People were surprised, as so many were asking about it, seeking it out at the buffet table (which offered guests an opportunity to enjoy the competitors' briskets), and raving about it.
As a judge, I had no answers — I'd enjoyed everything I ate, and told her point-blank that I'd loved her entry as well.
The brisket met four of the five judging criteria — aroma, appearance, texture, and taste — with no question, receiving high marks for each. So my best guess is that, perhaps, Miriam's might not have scored well on the all-important "Jewish Factor," a critical fifth aspect.
Brisket is a classic Ashkenazi dish, served by Jews of Eastern European heritage. This dish, then, with its olives and tomatoes, did not fit that image. However, Sephardic Jews — descended from those who were expelled during the Spanish Inquisition, who migrated to the Middle East and Africa and beyond — would absolutely use these ingredients in their cooking. Did this particular brisket, then, warrant lesser marks for not being traditionally "Jewish" or higher marks for representing both groups?
This brisket is great on its own, chopped and served over pasta with a generous helping of sauce, or used as a filling for a sandwich... it's an easy, flavorful dish with excellent flavor!
Miriam Shaw's Easy Braised Brisket
1 2.5-pound brisket
3/4 teaspoon kosher salt
1/4 teaspoon freshly ground black pepper
3 tablespoons extra-virgin olive oil (Miriam used cooking spray)
1 large onion, chopped
1 teaspoon dried oregano
1 cup water (Miriam used 1/2 cup, but I needed to add more to keep the sauce from getting too thick)
1/3 cup chopped pitted Kalamata olives
1 14.5-ounce can diced tomatoes, undrained
Sprinkle the brisket on all sides with the salt and pepper.
Heat the oil in a Dutch oven and brown the brisket on all sides over medium heat. Remove the brisket and add onion and oregano to the pan; saute for 3 minutes.
Return the brisket to the pan and add the water. Cover and reduce heat; simmer for 2 hours.
Add the olives and tomatoes; cover and cook for 1 hour.
Remove the brisket and let it stand for 5 minutes. Cut brisket against the grain into thin slices, then return the brisket to the pan. Cover and continue to cook for 30 minutes.
Serve the brisket with the sauce.
Serves 8-10.

Mary Bilyeu writes about her adventures in the kitchen - making dinner, celebrating holidays, entering cooking contests ... whatever strikes her fancy. She is also on a mission to find great deals for her Frugal Floozie Friday posts, seeking fabulous food at restaurants on the limited budget of only $5 per person. Feel free to email her with questions or comments or suggestions: yentamary@gmail.com.
You should also visit Mary's blog — Food Floozie — on which she enthuses and effuses over all things food-related.


The phrase "You Should Only Be Happy" (written in Hebrew on the stone pictured in this post) comes from Deuteronomy 16:15 and is a wish for all her readers - when you come to visit here, may you always be happy.