Posted on
Fri, Mar 9, 2012 : 2:33 p.m.
Broccoli-Cheddar Soup tastes rich even with lightened-up ingredient list
By Peggy Lampman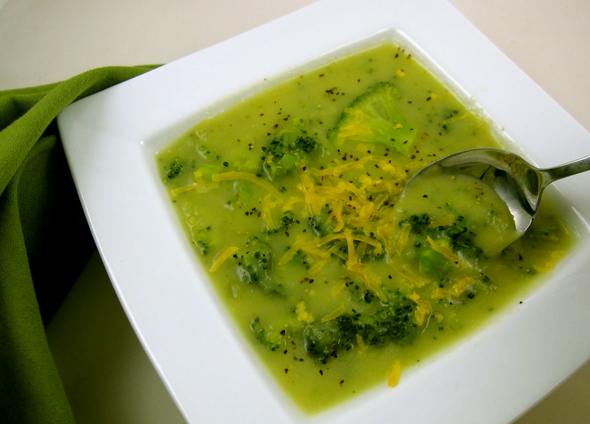 Peggy Lampman | Contributor

mean fighting machine!
Here's a good seasonal transition soup: it's thick enough to remind one of comfort food, but (mindful I'll be shedding my sweater soon) still tastes great without a the addition of butter and cream.
The potatoes did a good job of thickening the brew, but if you'd prefer a richer batch, substitute butter for the oil, and a splash of cream at the end of cooking time.
The recipe easily doubles, but unlike most soups, doesn't taste so great after a couple of days in the frige. If you have leftovers, you may consider freezing them.
Active Time: 15 minutes
Cook Time: Apx. 45 minutes
Number of servings (yield): Approx. 5 cups
Ingredients:
2 tablespoons olive oil
1 small yellow or white onion, chopped
1 large Idaho potatoe, peeled and cut into 1-inch cubes
4-5 cups vegetable or chicken stock
1 large head of broccoli with stalk
1 cup freshly grated extra sharp Cheddar
Directions
1. In a large pot, heat oil over medium heat. Stir in onion with a pinch of kosher salt and cook 3 minutes, stirring. Stir in potatoes and 4 cups of stock and bring to a boil. Reduce to a simmer and cook 15 minutes.
2. While soup is simmering, remove dead end from broccoli and discard. Cut off broccoli florets and reserve. Cut remaining brocolli into 1/4-inch pieces, and add to simmering soup
3. Simmer soup until broccoli and potatoes easily fall apart when poked with a fork. With a food processor or immersion blender, purée soup and stir in 3/4 cup cheese. Add additional stock to desired level of thickness.
4. Stir in broccoli florets and simmer until tender, 3-5 minutes. Season to taste with kosher salt and freshly ground pepper. Top with additional grated Cheddar and serve.