Posted on
Mon, Feb 27, 2012 : 11:22 a.m.
Cheesy Chicken, Spinach & Red Onion Tortillas make a quick and easy dinner
By Peggy Lampman
Peggy Lampman | Contributor

mean fighting machine!
Quesadillas are quick and easy to make, and are a marvelous vehicle for using up leftovers - the flat, flour or corn wraps reminding of a canvas on which you sketch a meal.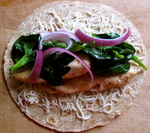 Last year I made a
similar recipe
for Spinach, Roasted Red Pepper and Goat Cheese quesadillas that is a bit more involved than this recipe, but worth the effort.
Long, thin chicken tenders, flattened with a mallet, are the perfect fit for tortillas. I love tortillas fried and glued together with abundant cheeses, however you could bank calories by cutting the cheese in half, baking them, and using plain Greek-styled yogurt instead of sour cream.
Yield: 6 tortillas
Time: 35 minutes
Ingredients
2 tablespoons lime juice, divided

1 pound chicken breast tenders, pounded flat

1 teaspoon cumin

1/2 teaspoon kosher salt

1/4-1/2 teaspoon cayenne

1-2 tablespoons cooking oil, such as canola or grapeseed
4 cups fresh packed spinach

1/2-1 cup grated cheese, such as pepper jack, sharp cheddar, Manchego, Asadero or mozzarella
3 tablespoons diced red onion (for salsa) plus several, thin slices (for stuffing)

2 tablespoons chopped cilantro, plus extra sprigs for garnish

1 small avocado, pitted and diced

6 (7-8-inch) tortillas

Sour cream, optional
Directions
1. Sprinkle one tablespoon lime juice over flattened tenders. Combine the cumin, salt and cayenne (1/4 t for mild seasoning; 1/2 t for spicier palates), and evenly sprinkle over chicken tenders.In a large sauté pan, heat 1 tablespoon oil over medium- high heat.

2. Cook tenders about 2 minutes per side, or until lightly seared and just cooked through. Remove chicken and reserve. Turn off heat and place spinach in hot oil to wilt just slightly. Remove and divide chicken, 1/2-1 cup cheese, spinach and sliced onion between tortillas; fold over.

3.Heat additional 2 teaspoons oil over medium-low heat. When a bit of tortilla sizzles when placed in oil, cook quesadillas until golden brown on each side, adjusting heat as necessary to insure tortillas don't burn but sizzle. Cook tortillas in batches, adding an additional teaspoon of oil if necessary. Drain on paper towels. (Tortillas may be kept warm in a 200 degree oven at this point, if desired.)

4. Meanwhile, make a salsa by combining diced avocado, diced onion, cilantro and remaining tablespoon lime juice. Drain on a paper-towel lined baking sheet. Serve with salsa and/or sour cream, if desired.