Posted on
Mon, Feb 6, 2012 : 11 a.m.
Cheesy corn muffins - a side dish thrown together at the last minute becomes the star of the meal
By Mary Bilyeu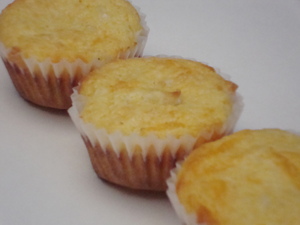 Mary Bilyeu | Contributor
If you need a quick side dish to supplement a meal, sometimes mixes are just the thing to save you. I'm usually a girl who bakes from scratch. But I had so many things to do this past weekend and so many places to be that the fastest option was the option that won the day.
Your son or daughter came home from school for the weekend, bringing a month's worth of laundry and an extra person to feed? You weren't expecting your children's friends to stay for an extended play date that suddenly includes dinner? A loved one isn't feeling well and needs some chicken soup, plus a little something to round out the meal? Muffins that can be made in 20 minutes, to the rescue!
And how can you go wrong with Michigan's own Jiffy muffin mixes? Packaged just down the road in Chelsea, they're inexpensive and easy to use, always ready to be relied upon whether you use blueberry, banana or any of the others.
Take a basic muffin mix, stir in a couple of extras and your last-second side dish may just end up being the star of the meal!
Cheesy Corn Muffins
1 8.5-ounce package Jiffy Corn Muffin mix
1/2 cup skim milk
1 large egg
2 ounces sharp Cheddar cheese, shredded
2 ounces Pepper Jack cheese, shredded
Preheat oven to 400 degrees. Line a 12-cup muffin tin with paper liners.
Place the mix into a medium mixing bowl. Combine the milk and the egg; stir into the mix. Stir in the cheeses.
Divide the batter among the lined muffin tins. Bake for 12-15 minutes until a tester comes out clean and the muffins are golden.
Makes 12 muffins.

Mary Bilyeu writes about her adventures in the kitchen - making dinner, celebrating holidays, entering cooking contests ... whatever strikes her fancy. She is also on a mission to find great deals for her Frugal Floozie Friday posts, seeking fabulous food at restaurants on the limited budget of only $5 per person. Feel free to email her with questions or comments or suggestions: yentamary@gmail.com.
You should also visit Mary's blog — Food Floozie — on which she enthuses and effuses over all things food-related.

The phrase "You Should Only Be Happy" (written in Hebrew on the stone pictured in this post) comes from Deuteronomy 16:15 and is a wish for all her readers - when you come to visit here, may you always be happy.