Posted on
Sat, Jan 14, 2012 : 5:42 a.m.
Chefs root for ginger's versatile properties
By AnnArbor.com Staff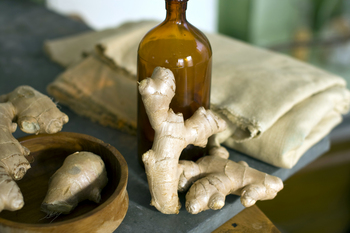 AP Photo | Matthew Mead
MICHELLE LOCKE, For The Associated Press
Fresh, dried, candied or pickled, the rhizome of the plant Zingiber officinale — ginger root to you and me — is a hot commodity at the moment.
Used quietly for years to add zip to everything from stir-fries and sushi to breads and cookies, ginger also happens to be a key ingredient for the noodles and dumplings traditionally eaten for Chinese New Year, the two-week celebration of food and family that begins Jan. 23.
But at the moment the knobby brown root is enjoying a bit of zeitgeist that goes far beyond that celebration, showing up in desserts, upscale sodas, marinades for pricy meats and fancy cocktails as the food world embraces this zingy root in anything but a gingerly fashion.
At the Lukshon restaurant in Los Angeles, chef-owner Sang Yoon laughingly describes himself as the guy who'll "eat my own weight in the pickled ginger" when sitting down to sushi. "I really enjoy that light burn on the palate. It almost acts as a palate cleanser. It's especially really pleasing for richer, oilier dishes like mackerel."
So at his restaurant, he has taken ginger well beyond the stir-fry, making a syrup from ginger and galangal (a more savory relative of ginger) for cocktails, juicing ginger for sauces and vinaigrettes and hot pickling ginger for raw fish dishes.
Chef and Asian food authority Bruce Cost is such a fan he wrote the 1984 cookbook, "Ginger East to West," which traced the history of ginger. He created Bruce Cost Ginger Ale for his restaurants and now sells it in specialty and food service retailers across the country. Unfiltered, it's brewed in Brooklyn and made from fresh, whole ginger and cane sugar.
"It's probably the premier herb on the planet," he says, noting that ginger is an ancient food that has been embraced by diverse cultures.
And his brew is hardly alone. Grocer's shelves are suddenly crowded with fancy ginger ales sporting big, bold flavor, from Reed's Extra Ginger Brew to Maine Root Ginger Brew.
Diana Kuan, a New York-based writer and cooking instructor who blogs about food at appetiteforchina.com, likes ginger in all its incarnations, including, of course, its traditional role along with garlic and scallions as the basis for stir-fry and other dishes.
Ginger also shows up in marinades to help tenderize meat and is a natural partner to crab, steamed fish or in rich dishes, such as pork belly or dumplings. "It has a really clean and sharp flavor," says Kuan.
Jan. 23 ushers in the Year of the Dragon, which is the only mythical creature in the 12 animals that make up the Chinese zodiac and packs a bit more drama than the mild-mannered rabbit that ruled 2011.
Celebrations begin with a big family feast on New Year's Eve and go on for 14 days ending with the Spring Lantern Festival.
Somewhere in there, you may need a cocktail, and this ginger lemon drop spritzer may fit the bill. Use the best ginger beer (fancy ginger ale) you can find. Fresh ginger, usually found with the grocer's Asian produce, should be firm and brown.
___
GINGER LEMON DROP SPRITZER
Start to finish: 5 minutes
Servings: 1
Ice
12-ounce bottle ginger beer
2 ounces Domaine de Canton (ginger liqueur)
1 ounce vodka
1 ounce lemon juice
1 teaspoon minced fresh ginger
Fill a highball glass with ice and pour in enough ginger beer to fill the glass two-thirds of the way.
In a cocktail shaker filler with ice, combine the ginger liqueur, vodka, lemon juice and fresh ginger. Shake well, then strain into the glass.
(Recipe by Alison Ladman)