Posted on
Wed, Apr 11, 2012 : 4:50 p.m.
Chicken baked in spiced mango sauce makes a sweet, succulent and speedy dinner
By Mary Bilyeu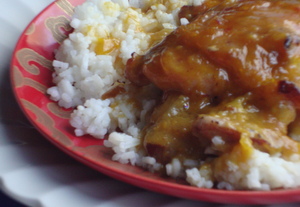 Mary Bilyeu | Contributor
I received a great marketing gift last week: a case of Ataulfo mangoes, otherwise known as the Champagne variety, from the Whole Foods store down the road from where I work. In addition to making what I must admit was a really lovely Gingered Mango Soup, my family and friends also ate a significant number of the fruits "as is," since they were perfectly ripe and so delicious.
But I couldn't just devour them all, tempted as I was, so I devised another recipe to showcase the glorious mangoes.
Chicken can be prepared hundreds — thousands! — of ways, but still sometimes we get a bit tired of it. What, I thought, could add a bit of pizazz to this plain ol' bird?
I didn't want to fry it... I didn't want to curry it (often my first choice because I adore curry, so I needed to divert from my routine)... I didn't want to just chop up the chicken and the mango and make a salad. Hmmm...?
I decided to cook the mango with some spice, to infuse a sauce with extra flavor and zest. Then I merely poured it over browned chicken and baked it to caramelize the sauce a bit. This was a fast, fabulous meal that was easily prepared after work, and it was even better than I'd hoped for!
It sounds so simple, but this dish really is exceptional. It was fork-tender, and the flavors were vivid.
Sweet, spicy, succulent ... what great adjectives to use in describing dinner!
Chicken Baked in Spiced Mango Sauce
4 tablespoons extra-virgin olive oil, divided
2 teaspoons kosher salt, divided
1/2 teaspoon red pepper flakes
1 small onion, chopped
1 cup ginger ale
1/4 cup pomegranate molasses
2 mangoes, peeled, seeded, chopped
2-1/2 pounds boneless, skinless chicken thighs
1/2 teaspoon freshly ground black pepper
2 tablespoons brown sugar
Preheat oven to 425 degrees. Grease a medium casserole dish.
In a large skillet, heat 2 tablespoons oil over medium heat. Add 1 teaspoon salt, the red pepper flakes, the onion, ginger ale, pomegranate molasses, and mangoes; bring to a boil and cook for 5 minutes. Transfer to a blender and puree.
Season the chicken on both sides with the remaining salt and the pepper. In the same large skillet used for the sauce, heat the remaining oil over medium heat. Brown the chicken for 5 minutes per side, cooking it in batches if necessary.
Place the chicken into the casserole dish, pour the sauce over it, and sprinkle the brown sugar over the top. Bake for 30 minutes until sauce is bubbling.
Serves 6-8.

Mary Bilyeu writes about her adventures in the kitchen - making dinner, celebrating holidays, entering cooking contests ... whatever strikes her fancy. She is also on a mission to find great deals for her Frugal Floozie Friday posts, seeking fabulous food at restaurants on the limited budget of only $5 per person. Feel free to email her with questions or comments or suggestions: yentamary@gmail.com.
You should also visit Mary's blog — Food Floozie — on which she enthuses and effuses over all things food-related.


The phrase "You Should Only Be Happy" (written in Hebrew on the stone pictured in this post) comes from Deuteronomy 16:15 and is a wish for all her readers - when you come to visit here, may you always be happy.