Posted on
Thu, Mar 22, 2012 : 8 a.m.
Chickpeas with soy chorizo is full of Morrocan flavor and fragrance
By Mary Bilyeu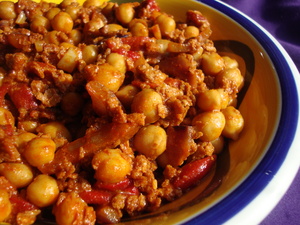 Mary Bilyeu | Contributor
Last week, I wrote a blog post that mentioned my dream of someday travelling to Morocco.
It's been ages since I cooked anything from that region... and why? I adore Moroccan food, with its vivid spices and flavors. I've been so busy with holiday cooking, writing about cookbooks, judging events, and other missions; and, of course, I have to accommodate other eaters in my life, who aren't necessarily terribly adventurous. So much food to cook and eat, so little time!
This recipe is traditionally Moroccan in that it is stew-like and reminiscent of a tagine — a beautiful conical dish that simmers foods, as well as the dishes that are cooked in the utensil (the name can be used for both); this is indicative of influence from the Berbers of North Africa. It is also Moroccan in that it has been strongly influenced by Spain, which is evident in the use of both chorizo and paprika. Spain and Morocco are only eight miles apart, across the Strait of Gibraltar.
To make this a vegetarian dish, I used a lovely soy chorizo that is available at Trader Joe's; it isn't a firm sausage, but rather a crumbly one. It offers good flavor and color, and is great in many recipes (such as the Sloppy Joes that I'm told are a friend's family favorite). You could easily use traditional meat chorizo, which is sliced rather than ground; of course, while that ingredient would be indicative of Spanish influence, it would also be an affront to Morocco's Muslims with its forbidden pork. So many cultures, so much history, such a melange!
But whether you're serving carnivores or vegetarians, this simple, fragrant, fabulous dish is one you should absolutely try.
Chickpeas with Chorizo
2 tablespoons extra-virgin olive oil
2 large garlic cloves, minced
1 small red onion, quartered, sliced
1 small roasted red pepper, quartered, sliced (from a jar is just fine)
6 ounces chorizo (soy or pork)
1 15-ounce can chickpeas, drained, rinsed
1 teaspoon smoked paprika
juice of half lemon
1/2 cup water
1 teaspoon kosher salt
generous pinch freshly ground black pepper
Heat the oil in a medium saucepan over medium heat. Add the garlic and onion; saute for 5 minutes, stirring frequently, until the onion is softening. Add the remaining ingredients and bring just to a boil. Cover the saucepan, turn heat down to low, and cook for 10 minutes until most of the liquid is absorbed.
Serve "as is" with bread, or serve it over couscous. Serves 2-4.

Mary Bilyeu writes about her adventures in the kitchen - making dinner, celebrating holidays, entering cooking contests ... whatever strikes her fancy. She is also on a mission to find great deals for her Frugal Floozie Friday posts, seeking fabulous food at restaurants on the limited budget of only $5 per person. Feel free to email her with questions or comments or suggestions: yentamary@gmail.com.
You should also visit Mary's blog — Food Floozie — on which she enthuses and effuses over all things food-related.


The phrase "You Should Only Be Happy" (written in Hebrew on the stone pictured in this post) comes from Deuteronomy 16:15 and is a wish for all her readers - when you come to visit here, may you always be happy.