Posted on
Tue, Feb 8, 2011 : 6 a.m.
Chili, beer and an auction to benefit Ann Arbor Civic Theatre
By Mary Bilyeu

I received a great email a few weeks ago, from Martha Montoye of the
Ann Arbor Civic Theatre
; she was inviting me to participate in their second annual
Chili Cook-Off
, Beer Tasting and Silent Auction fundraiser by saying, "We have to have some Floozie chili again!" She remembered me from last year's event ... awww. Of course, when you decorate your table with bright pink feathers and wear a tiara, I guess you tend to stand out!
Well, how could the Food Floozie resist a personal request for such a good cause? So I'll absolutely be at the Corner Brewery (720 Norris St., in Ypsilanti) on Sunday, Feb. 13 at noon. And I expect all of you to join me, too!
The cook-off is a most entertaining way to raise money for one of the oldest community theaters in the country, which provides opportunities for all Ann Arborites to participate in and experience live theater. Bid on Valentine-themed gifts while tasting a variety of microbrewed beers and homemade chilis. Support a great local institution and have a fabulous time while doing so! This is not one of those stodgy affairs at which women are strangled by panty hose while men yank at their bow ties and everyone's eyes are glazed by boredom ... uh uh. This is a loud and lively party for all ages, where the more festive and frivolous you are, the better!
My own offering for this year is still a work in progress (I've moved twice in the past month, so my life is a bit chaotic!). But my vision is of a Cheesy Chicken Chorizo Chili — some pepper jack and some cheddar, hearty chicken and spicy sausage... I hear it calling. I just have to work out the finer details still. Don't worry — I'll toss in some tomatoes, peppers and corn to provide flavor, color and even a hint of nutrition! And a bit of local favorite Clancy's Fancy Hot Sauce never hurt anything either.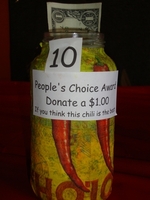 You can support this fabulous event for $20, which includes 10 chili tastings, five beer samples, the silent auction and a keepsake tasting glass. For chili only, the cost is $10; the charge for children ages 5-10 is $5. Kids under 5 attend for free. Tickets are available by calling 734-971-2228, or you can pay at the door. And don't forget to bring $1 bills to feed the jars that will be at each contestant's station: the one with the most money (moi, perhaps?) will be given the honor of People's Choice Award.
Be sure to stop by my station to say "hi." There won't be any tiara for me this year, but I'll still be easy to find: I'll be wearing a bright red fluffy/feathery sweater. Oh, and there will be some miniature rubber chickens on my display table (bought at Fantasy Attic, of course!) because my motto — for chili and for life — is "Why be boring?"
Mary Bilyeu has won or placed in more than 60 cooking contests and writes about her adventures in the kitchen. She was thrilled to have her post about Scottish Oatmeal Shortbread named as one of the daily "Best of the Blogs" by the prestigious Food News Journal.
Go visit Mary's blog —Food Floozie — in which she cooks, reviews restaurants and generally enthuses and effuses over all things food-related. And feel free to email her with questions or comments: yentamary@gmail.com.
The phrase "You Should Only Be Happy" (written in Hebrew on the stone pictured at the top of this post) comes from Deuteronomy 16:15 and is a wish for all her readers as they cook along with her ... may you always be happy here.