Posted on
Thu, Feb 9, 2012 : 10:29 a.m.
Chocolate-Dipped Strawberries are easy to make, loved by all
By Peggy Lampman
Peggy Lampman | Contributor

mean fighting machine!
Love is expansive, and chocolate is dark; serving chocolate-strawberries, will surely melt a heart.
Yep. It's that time of year again, when my cornball soul can pen a silly verse without apology, when I can send construction paper hearts glued to paper doilies the old-fashioned way — snail mail — and serve my family chocolate at every meal, for every course, if I so desire.
Flourless Chocolate Tortes, Bacon & Chocolate Truffles and luscious Chocolate Mousse are past Valentine's Day favorites. The following recipe, however, is one I can gobble with abandon, for the chocolate is merely the accessory for a plump, juicy strawberry.
So if you're looking for a special treat that's easy to make and appreciated by all, look no further than Chocolate-Dipped Strawberries.
This is also the time of year when many grocers stock those humongous, long-stemmed babies, so perfect for dipping; I purchased my beauties from Hiller's.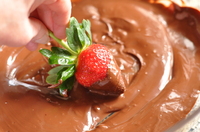 People are under the assumption that they are difficult to make, which puzzles me. I've seen blogs with pages devoted to tempering the chocolate just so that the chocolate adheres to the berry just right. Granted, you must monitor the chocolate as it melts so you don't overdo it; but that requires minimum effort. I simply purchase baker's chocolate, break it into pieces, microwave — checking — until creamy, then dip. There's a bit more finesse than that, particularly if you decide to decorate them, but not much.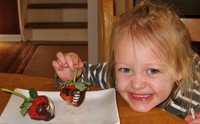 Which brings me to the next step: the accoutrements. You could forget them altogether, a strawberry dipped in one coat of chocolate is poetry unadorned. Or you could go hog wild, decorating them with assorted chopped nuts, colorful sprinkles, even caramel. Strawberries dipped in white chocolate and dressed with small candy red hearts are favorites of my kids.
For ease, I drizzled melted white chocolate over mine in the following recipe, then made a design with the prongs of a fork. You'll have more control over your design if you put the chocolate in a squirt bottle, or trim one bottom tip of a plastic bag and use as a make-shift pastry bag.
Happy Valentine's Day; Love and Cyber Kisses to you all!
Chocolate-Dipped Strawberries
Yield: 16-22 strawberries, depending on size of strawberry
Time: 35 minutes
Storage Tip: Keep refrigerated or in a cool place (uncovered or loosely covered). I've kept them refrigerated for several day with good results, but the texture of the berry suffers somewhat; it's ideal serving them several hours after they've been made.
Ingredients
1 (4-ounce bar) semisweet chocolate, chopped
1 (4-ounce bar) bittersweet chocolate, chopped
3 ounces white chocolate, (3/4 bar) chopped
1 pound strawberries* with stems (16- 20), washed and dried
Parchment or wax paper
*I prefer my strawberries ripe and sweet; you may need to buy them a few days in advance, and let them ripen to your desired level of sweetness.
Directions
1. Combine the semisweet and bittersweet chocolate in a microwave-safe dish. Microwave one minute then remove and stir. Return to the microwave an additional 30 seconds, then remove and stir again. Keep doing this in 30 second increments until the chocolate is smooth and melted; 1 1/2- 2 1/2 minutes, depending on size of chocolate pieces and microwave power. (Alternately, chocolate may be melted in the hot of a double-boiler over simmering water.)
2. Line a sheet pan with parchment or wax paper. Holding strawberry by the stem, swirl each berry in chocolate, leaving a bit of red exposed beneath the stem, and allow excess chocolate to drip back into the bowl. Lay on parchment or wax paper. Repeat with remaining strawberries.
3. Melt white chocolate, per Step 1. Dip fork prongs into chocolate, and dribble and swirl into the dark chocolate making a pattern. (For more control, use a squirt bottle or cut end of plastic bag.)
4. Allow to harden at room temperature, then refrigerate until ready to enjoy.
Visit AnnArbor.com contributor Peggy Lampman at http://dinnerFeed.com for more seasonal recipes and local value. You may follow her at http://twitter.com/dinnerfeed to get daily mini-recipes.