Posted on
Tue, May 21, 2013 : 1 p.m.
A neighborhood market with a mission - Cobblestone Farm Market starts May 21
By Kim Bayer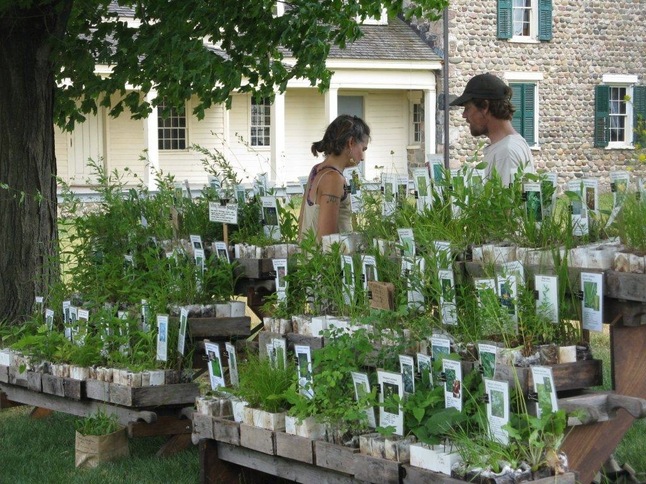 Photo courtesy of Cobblestone Farm Market
"Sustainable farms are to today's headlong rush toward global destruction what the monasteries were to the Dark Ages: places to preserve human skills and crafts until some semblance of common sense and common purpose returns to the public mind." - Gene Logsdon
For more than 40 years only the ghosts of farmers have resided at Cobblestone Farm, the living history museum on Packard that began as the 183 acre Ticknor Farm in 1835. Purchased by the city of Ann Arbor in 1972 and restored with gardens and farm animals, the Cobblestone Farm property has long been used as an educational and event space.
But it took the residents of the surrounding neighborhoods to bring back the farmers. Since 2012, they have breathed agricultural life back into the property with the all-organic Cobblestone Farm Market every Tuesday from 4-7 p.m. starting May 21 and running until Nov. 5, 2013.
Offering prepared foods, native plants, baked goods, and cheese in addition to organic produce, health and the Slow Food principles of "good, clean and fair" are the guiding lights of the market.
They say: "When you buy produce at our market, you can be sure that the food is good for you, good for the people who grow it, and good for the land. Our farmers use traditional production methods that maintain fertile soil, clean water and fresh air. Prepared foods are free of GMO's and coffee is roasted locally with Fair Trade beans. We ask our vendors to avoid refined sugar and use whole grains whenever possible."
The neighborhood instigators of this new organic, family-friendly market call themselves "parents, farmers, gardeners, teachers, radical homemakers, naturalists, neighbors and friends." Among them is the beloved early childhood educator and community activist, Jeannine Palms, who is a member of the market's coordinating team. I was able to ask Jeannine about the principled focus on health for the neighborhood and the market.
Briefly, how was the Cobblestone Farm Market formed?
Several neighbors got the idea, explored the possibilities with other neighbors and farmers, were joined by several other neighbors to form a working team, considered different venues, grappled with some obstacles that finally lead to partnering with the Cobblestone Farm Association, and then finally pulled it all together to open in June 2012.
What is the vision for the market?
We have been working on refining our vision statement, but the discussion focuses on these aspects: To create and sustain a community-run market that strengthens local food networks, features quality food that can be trusted and is bought directly from the producers, has fair prices for both consumers and producers that foster local economies, provides access to good, clean and fair food from the local area in order to reduce food miles and shorten the food chain, provides a structure for consumers to become co-producers, learning from producers and from educational activities, and that grows community by providing a welcoming place to share food, music, skills, and activities in an earth friendly manner.
What would you say is unique about Cobblestone Farm Market?
It was initiated and is managed by volunteers; it is an organic produce market; it is on the grounds of an historic farm with buildings and live farm animals that can offer visitors a view into some historical aspects of farming and family life; besides a variety of vendors, it offers child friendly activities, music, tours of the farmhouse, live animals and re-skilling activities.
Why does the Buhr Park/Cobblestone area need its own market?
A neighborhood market is more accessible for people to get to, offers a wider variety of opportunities for building community, brings people to a market who may rarely if ever go to a market.
Are you working toward becoming certified as a Slow Food "good, clean and fair" Earth Market?
We have begun exploring what it means to be an Earth Market and if it would be a good match for us. We look forward to continuing discussions with ourselves and others.
Why did you decide that it was important to be an organic market?
Basically we decided to be organic because:
1. Organic produce and other organic food is grown without the use of pesticides, synthetic fertilizers, sewage sludge, genetically modified organisms, neurotoxins or ionizing radiation. Animals that produce meat, poultry, eggs, and dairy products are not given antibiotics or growth hormones.
2. Organic food produced by organic farmers emphasizes the use of renewable resources, the conservation of soil and water to enhance environmental quality for future generations and  supports wildlife habitats. It is a sustainable way to grow food that respects all life and works in collaboration with the eco-system.
3. Organic food is higher in nutrients, tastes good, is much safer for farm workers.
4. Customers like it because they don't have to worry about how to find out themselves; it puts the farmers more in an even place with each other.
Some further explanations for these reasons are at http://recipes.howstuffworks.com/reasons-eat-organic-food.htm.
What will be new or upcoming for this year?
New vendors, some with new offerings including cheese, meat, crafts, nut butters, and soaps; food equity programs including SNAP that will make organic produce more accessible to more people, expanded Re-skilling activities, and more.
Kim Bayer is a freelance writer and culinary researcher. Email her at kimbayer at gmail dot com.