Posted on
Wed, Feb 22, 2012 : 1:42 p.m.
Cocktails to get you through the dregs of winter
By Jessica Webster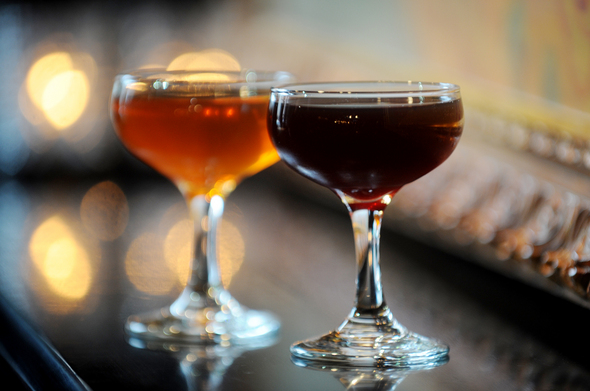 Melanie Maxwell | AnnArbor.com
I have lived in northern climates for my entire life. I love having four distinct seasons, and even relish the worst of winter, knowing that it will make the arrival of spring — brought in by the daffodils and robins — that much sweeter.
However, right about now, toward the end of February, when the skies are grey and my inbox is filled with offers of deals on vacations to sunny destinations, winter starts to drag on me.
As much as I would like to be lounging by the pool with an umbrella drink, I'm going to keep celebrating this Michigan winter with some seasonally appropriate cocktails. I turned to some local cocktail experts for advice in the matter.
My first stop was Ari Sussman, a former AnnArbor.com contributor who probably made you a basil-lime martini or two when he tended bar at eve the restaurant. Ari says he stays away from white spirits in the winter. "Scotch neat has its place, but monastic liqueurs and marshmallows always hit the spot."
Ari's favorite winter cocktail is Ovaltine and Chartreuse, a fairly simple recipe that matches up a classic malted chocolate drink with a liqueur that has its roots in an 18th century French monastery.
Ovaltine and Chartreuse
1 mug hot Ovaltine (with fresh milk, not water)
1 ounce Green Chartreuse
3 marshmallows or whipped cream
Ari also shared his recipe for an old favorite: Hot Buttered Rum, and points out that the drink is even better "with a poke from a scalding loggerhead." That's the method that tavernkeepers in the 1700s used to heat up warm drinks. It's a great idea, since the hot poker served to caramelize sugars and ignite alchol vapors, but we do not recommend trying it at home.
Hot Buttered Rum
Mix together:
1/2 tablespoon unsalted butter
1 teaspoon Demerara sugar
2 drops vanilla extract
2 ounces aged dark rum
Top with water at about 130 degrees (not boiling — it'll evaporate the booze).
Grate some fresh nutmeg on top.
Enjoy!
My next call was to Ravens Club mixologist Zack Zavisa. Zack has been garnering a lot of attention lately with his seasonally-focused cocktail menu at Main Street's hippest new restaurant. Zavisa turns to spicy spirits and over-proofed whiskeys during the winter months.
And like Ari Sussman, he's fond of monastic spirits. In Zack's case, the liqueur of choice is Bénédictine — an 18th century French herbal liqueur that he likes for its nice floral notes.
The first cocktail recipe Zack shared with me is one of his own creations. Named for the Detroit street on which he grew up, he loves it for its balance of spicy rye whiskey and mellow Benedictine. The drink is currently on the menu at Ravens Club.
Zack Zavisa's Outer Drive
2 ounces rye whiskey (Zack likes Bulleit)
1/4 ounce sweet vermouth (Zack recommends Carpano)
1/4 ounce dry vermouth (to balance the sweet vermouth)
1/2 ounce Benedictine (to mellow the spice of the rye)
Muddle a Demerara sugar cube with a few drops of angostura and peychaud bitters. Add the spirits, then add ice. Stir the drink (don't shake it!) for about 50 or 60 turns. Strain the drink and serve it up with a citrus peel garnish.
Zack's second drink comes courtesy of Dan Greenbaum, a cutting-edge craft cocktail pioneer at the Beagle in New York City. Zack loves this drink because it captures the brisk essence of the north Atlantic. And like the Outer Drive above, you can head to Ravens Club for this drink if you're not inclined to mix it up yourself. When I was at the restaurant last week, I learned that they've been making their own bitters for cocktails as part of their locally-sourced focus.
Dan Greenbaum's North Atlantic
1 1/2 oz Calvados apple brandy
3/4 oz Madeira (you can substitute port wine)
1/2 oz Bénédictine
1/4 oz Angostura Bitters
Stir with ice and strain into a cocktail glass. Garnish with an apple peel and freshly grated nutmeg.
Jessica Webster leads the Food & Grocery section for AnnArbor.com. You can reach her at JessicaWebster@AnnArbor.com.