Posted on
Wed, Feb 20, 2013 : 8 a.m.
Coconut cream hamantaschen for Purim - dairy-free version a modern twist on classic holiday cookie
By Mary Bilyeu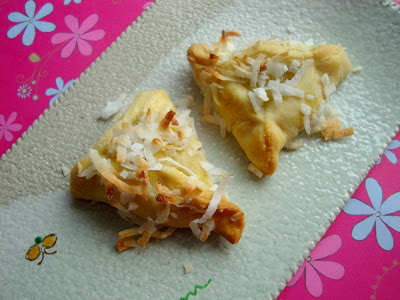 Mary Bilyeu | Contributor
Every year at
Purim
[POOR-im], which begins at sundown on Saturday night, there is a debate among Jews about
hamantaschen
[HAH-men-TAH-shen], the triangular cookies that are traditionally served at the holiday.
Some people think that ones with a poppy seed filling are most authentic, as Queen Esther — the heroine of the Purim story — survived on nuts and seeds while she debated whether to "out" herself as a Jew in order to save her people when they were under threat of extermination by the evil vizier Haman. (Since she was married to the king, she hoped to have a bit of influence.)
Others, however, feel that the prune ones, with a nod to the Old World, are the only true version.
And then... well, then there are folks like me who respect tradition but always have to tweak it.
I've made hamantaschen filled with homemade berry preserves, and even made a lemon-poppy version with poppy seeds mixed into the dough and a bright center of lemon curd.
And this year, I decided to try something really different: a variation on coconut cream pie.
Using coconut milk for the custard filling, I could make these pareve ([PAHRV] = non-dairy) for those with dairy allergies/intolerances and for those who keep kosher and therefore don't mix meat and dairy in the same meal. And I could add extra flavor by topping the cookies with flaked coconut that would toast nicely in the oven as the cookies baked.
These worked out perfectly, and are so, so good! Tender cookies, creamy filling, and crispy, toasty coconut for extra texture and flavor.
They're perfect to share with loved ones at this festive holiday!
Coconut Cream Hamantaschen
Filling:
8 tablespoons cornstarch
2cups sugar
2 cups water
2 cups coconut milk
4 eggs
In a small saucepan, combine cornstarch, sugar, and water; bring to a boil, then lower heat to medium-low. Stir constantly until mixture becomes translucent, then stir in coconut milk. Beat eggs, then add them slowly; cook until mixture is thick. Place into a bowl, cover with plastic wrap pressed against the surface, and refrigerate overnight.
Dough:
1/4 cup margarine, softened
1/4 cup shortening, softened
1 cup sugar
1 teaspoon baking powder
1/2 teaspoon baking soda
1/2 teaspoon salt
1/3 cup Tofutti sour cream substitute
1 egg
2-1/2 cups flour
In a large mixing bowl, combine the margarine, shortening, and sugar; stir in the baking powder, baking soda and salt. Mix in the Tofutti sour cream and the egg. Stir in the flour.
Wrap dough in plastic, and refrigerate overnight.
Cookies:
1 egg
2 tablespoons water
1 cup sweetened flaked coconut
(See this post for step-by-step instructions and photos for filling and shaping hamantaschen.)
Preheat the oven to 350 degrees. Line a baking sheet with parchment paper. Let the dough come to room temperature.
Roll the half of the dough at a time out to 1/4-inch thickness. Using a 2-1/2-inch round cookie cutter, cut out as many circles as you can; place dough circles onto the baking sheet, 2 inches apart.
Combine the egg and the water; lightly brush each round of dough with the egg wash. Place a generous half-teaspoon of filling into the center of each dough circle.
Pull up two sides of the circle, and pinch the corner where they meet. Pull up the remaining side, and pinch at the corners.
Brush the sides of the hamantaschen with egg wash, then sprinkle each cookie with 1/2 tablespoon coconut.
Repeat this procedure with each of the cookies, then bake for 15 minutes until the cookies are just turning golden. Remove to a rack and let them cool completely, repeating the process with the remaining dough and fillings.
Makes about 60 cookies.

Mary Bilyeu writes for AnnArbor.com on Tuesdays, Wednesdays, and Fridays, telling about her adventures in the kitchen - making dinner, celebrating holidays, entering cooking contests, meeting new friends ... whatever strikes her fancy. She is also on a mission to find great deals for her Frugal Floozie Friday posts, seeking fabulous food at restaurants on the limited budget of only $5 per person. Feel free to email her with questions, comments, or suggestions: yentamary@gmail.com.

Go visit Mary's blog — Food Floozie — where she enthuses and effuses over all things food-related; and look for her monthly articles in the Washtenaw Jewish News. "Like" her on Facebook, or send a tweet on Twitter, too.

The phrase "You Should Only Be Happy" (written in Hebrew on the stone pictured in this post) comes from Deuteronomy 16:15 and is a wish for all her readers - when you come to visit here, may you always be happy.