Posted on
Thu, Mar 29, 2012 : 11:13 a.m.
Make-Ahead Party Pesto Pasta & Chicken Salad is a crowd-pleaser
By Peggy Lampman
Peggy Lampman | Contributor

mean fighting machine!
Judging from the smells of tanning lotion and outdoor grilling in the early spring air, many of us are feeling celebratory and hosting parties. If you're one of the "lucky" entertainers in town, it's easy to get into a dither over the menu. Some folks don't like tofu, others shun meat. Many find the idea of eating raw fish (sushi) unfathomable, and there are those who pinch their nose at pungent spicy cuisines.
Therefore planning a dish for a party that pleases everyone can be challenging. One thing I've learned is most everyone likes Italian food, particularly Italian recipes that include pesto. No matter your palate, religion or political persuasion, everyone gets along when eating pasta and pesto.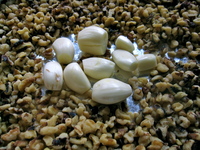 Entertaining a group is not daunting if you have one-bowl-fits-all recipes such as this Pesto Pasta and Chicken up your sleeve, which includes the starch (pasta), protein (chicken) and vegetable, er — fruit (tomatoes are a fruit). The recipe will serve 18-26 people, but could easily be divided in half. If you're looking for a vegetarian salad or side salad to accommodate a cook-out, eliminate the chicken, and this recipe has your number.
Another bonus is the dish accommodates a host's hectic schedule. Ingredients may be purchased up to 48 hours in advance, and most of the preparation may be done 24 hours in advance. (The pesto may even be made up to three days in advance.) If refrigerator space is an issue, put the salad in gallon-sized Zip-locks, which can always be squeezed into available space.
Here's the plan. The day prior to entertaining, prepare and, with the exception of the tomatoes, toss everything together — only tossing half of the pesto with the ingredients. Several hours before you plan to serve the dish, toss salad with tomatoes and remaining pesto, as needed to taste, then season with kosher salt and freshly ground pepper.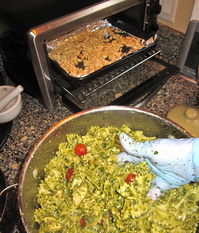 Shopping tips: I purchased all of the ingredients at Hiller's, the reason being is they always seem to have an ample supply of large packages of nice looking basil (I purchased about 1/2 pound for this recipe.) The store also stocks handy packages of walnut bits and pieces; 1, 9-ounce container was perfect for the recipe below.
For a more traditional basil pesto, you may prefer substituting pricier pine nuts for the walnuts. I saved the cash and tossed the finished salad with toasted pine nuts. This recipe yields a goodly pesto to pasta ratio; if you have leftovers, freeze them. Pesto thaws quickly and makes a much-appreciated mid-week dinner with pasta or spread over pizza or bruschetta.
I prefer using De Cecco bow tie pasta, as the semolina ratio the company uses helps keep the bow ties from falling apart. Shrimp, by the way, would be a wonderful substitution for chicken.
Invited to a pot luck? No doubt your host would appreciate your inviting this salad to accompany you. Served with crusty artisan bread or dinner rolls, followed by sweet treats for dessert, no one leaves hungry.
Number of servings (yield): Approx. 25 cups pasta (18-26 servings, depending on other dishes served)
Ingredients
2 cups walnuts
8 large cloves of garlic, peeled
8 cups fresh harvested basil leaves, washed, stems and flowers removed
2 cup extra virgin olive oil
2 cups grated Parmigianno Reggiano
2 pounds bow tie (farfalle) pasta
8 cups cooked chicken breast cut into 1-inch cubes*
2 pints grape or cherry tomatoes, halved or left whole
1 cup toasted pine nuts (7 ounces)
*I poached 4 pounds of chicken breast meat in water seasoned with peppercorns, salt and bay leaf, which yielded 8 cups of cubed chicken.
Instructions
1. Preheat oven or toaster oven to 350 degrees.
2. Toast the nuts and garlic in the oven until the nuts are golden brown, 3-5 minutes.
3. To make the pesto, in a food processor, purée the garlic with 2 tablespoons oil until smooth. Add the nuts to the bowl and, with off and on pulses, pulse until semi-pureed yet coarse. With a spatula, scrape garlic-nut mixture from the bowl into another bowl and reserve.
4. In batches, place the basil leaves in the food processor and, with the addition of remaining olive oil, purée until smooth.
5. Combine basil mixture with garlic-nut mixture. Stir in Parmesan and season to taste with kosher salt and freshly ground pepper. (The pesto will remain fresh, tightly covered, several days refrigerated.)
6. Cook pasta in salted water according to package instructions, or until it is just tender at the center, but not falling apart.
7. In your largest bowl or in a large pot, toss pasta with half of pesto and chicken. (With such a big batch, I always wear rubber gloves as you'll be past your wrists in pasta.This may be done up to 24 hours in advance.)
8. Up to 3 hours prior to serving, toss salad with remaining pesto, to taste, and tomatoes. Season to taste, if needed, with kosher salt and freshly ground pepper. Toss with toasted pine nuts. Best served at room temperature.