Posted on
Fri, Mar 8, 2013 : 4:19 a.m.
Curried Striped Bass is simplified version of traditional dish from Calcutta
By Peggy Lampman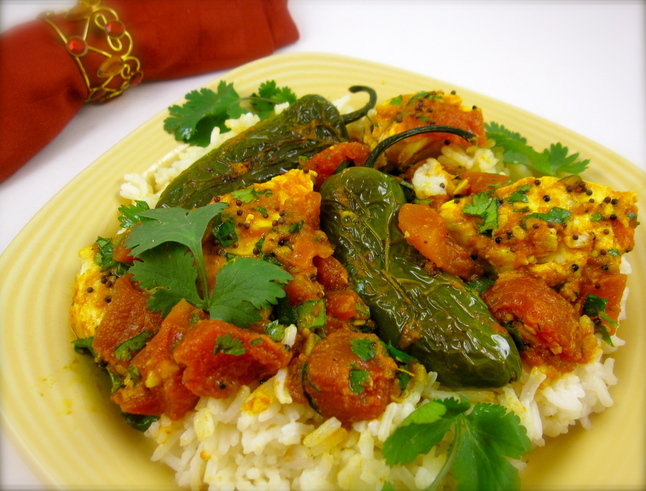 Peggy Lampman | Contributor

My dinnerFeed web site is a lean, mean fighting machine! To receive my lastest dinnerFeed posts by email, sign up here.
Have you ever tried cooking fish in an aromatic curry sauce? It's addictive, and thick pieces of firm-fleshed cod or sea bass are perfect choices when paired with curries.
I received this recipe a couple of years back from a reader, Sid Sharma, who sent me a recipe for a fish curry, written by Chef Anjum Anand, who is Punjani-British. Sid discovered her show, "Indian Cooking Made Easy" on Dish Network and tells me he appreciates her approach to cooking.
"She's aware about the necessity of eating healthy, and has adapted her methods, so one ends up with very tasty dishes."
Sid told me this recipe is a simplified version of similar dishes he's eaten in New Delhi and Calcutta, remembering his mother made curried fish when he was a child. Sid used cod in the following recipe and told me it turned out delicious.
Serving this with basmati rice and/or naan (Indian flat bread) is an absolute must; the perfect foil for lapping up the delicious sauce.
Another tried and true curry+fish recipe I return to often is Savory Cod in Coconut Milk Sauce - to die for.
Time: 45 minutes
Yield: 4 servings
Ingredients
2 tablespoons vegetable oil
1 teaspoon mustard seeds
1/2 cup white or yellow onion, finely chopped
3-5 hot green chillies, left whole or cut in half, lengthwise, seeds and membranes removed*
1 (28-ounce) can diced tomatoes with juices
1 tablespoon plus a teaspoon fresh grated ginger
1 tablespoon minced garlic
2 teaspoons unsalted butter or ghee, optional
1/2 teaspoon turmeric
3/4 teaspoon cumin powder
1 teaspoon coriander powder
1/2 teaspoon garam masala
1 & 1/2-2 teaspoons white wine vinegar, optional
2-3 tablespoons heavy cream, optional
1 1/2 pounds firm fleshed fish, cut into 1 1/2-inch cubes
1/4 cup chopped fresh cilantro leaves, plus extra sprigs for garnish, if desired
Instructions
1. Heat the oil over medium-high heat in a large saute pan. Add the mustard seeds and once they have popped, add the onions and green chillies. Cook, stirring often, until the onions are golden brown and peppers are blistered on each side, 5-8 minutes. Add tomatoes, ginger, garlic, spices and butter, if using.
2. Reduce heat to medium and cook 10-12 minutes or until just beginning to thicken. Add the vinegar and cream, if using; bring to a boil and reduce to a simmer until it is creamy, 3-4 minutes; if sauce is too thick, add a tablespoon or so water. Taste and adjust seasoning. Add the fish and simmer gently for 3-4 minutes or until just cooked through.
3. Add kosher salt and freshly ground black pepper to taste. Stir in cilantro and serve immediately, garnished with fresh cilantro sprigs, if using.
*Cutting the peppers will increase the heat permeating the entire dish; leaving them whole allows individuals to monitor the heat level to preferred heat tolerance.
Peggy Lampman is a real-time food writer and photographer posting daily feeds on her website and in the Food & Grocery section of Annarbor.com. You may also e-mail her at peggy@dinnerfeed.com.