Posted on
Thu, Apr 12, 2012 : 8 a.m.
Deviled eggs with Dijon mustard perfect for picnics and many other occasions
By Mary Bilyeu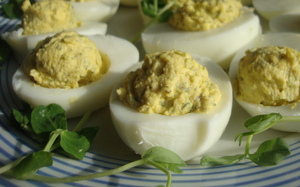 Mary Bilyeu | Contributor
At one of the Seders I attended at Passover, the topic of
deviled eggs
came up.
Everyone has a favorite recipe; some add chopped ham or salami, some add hot sauce, some add horseradish, some add dill. There is no wrong way to make these simple but delicious treats! And since I always like to tinker with things, I make the base with mayonnaise, Dijon mustard, and dill, but often add other items according to my whims.
These are one of Jeremy's favorite foods, so I usually make them for holidays. They were ideal for both Passover and Easter, but can be served at picnics and barbecues and "just 'cause."
Dijon Deviled Eggs
6 hard-boiled eggs, peeled, halved lengthwise
2 tablespoons mayonnaise
1 tablespoon Dijon mustard
1/2 teaspoon dried dill
1/2 teaspoon kosher salt
1/4 teaspoon freshly ground pepper
1/4 teaspoon prepared horseradish
Carefully pop the yolks out of the eggs and place them into a small mixing bowl. Place the whites onto a serving plate.
To the egg yolks, add the mayonnaise, mustard, dill, salt, pepper and horseradish; mix well. Use a small cookie scoop (if you have one) and place the filling into the cavities of the egg whites. Decorate the plate with pea shoots or fresh dill or edible flowers or some other colorful splash.
Makes 12 devilled eggs.

Mary Bilyeu writes about her adventures in the kitchen - making dinner, celebrating holidays, entering cooking contests ... whatever strikes her fancy. She is also on a mission to find great deals for her Frugal Floozie Friday posts, seeking fabulous food at restaurants on the limited budget of only $5 per person. Feel free to email her with questions or comments or suggestions: yentamary@gmail.com.
You should also visit Mary's blog — Food Floozie — on which she enthuses and effuses over all things food-related.


The phrase "You Should Only Be Happy" (written in Hebrew on the stone pictured in this post) comes from Deuteronomy 16:15 and is a wish for all her readers - when you come to visit here, may you always be happy.