Posted on
Tue, Mar 13, 2012 : 9 a.m.
Earl Grey's birthday tea cakes will charm with their bergamot orange flavor
By Mary Bilyeu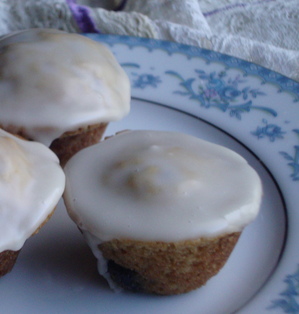 Mary Bilyeu | Contributor
Today, we're wishing a "Happy Birthday" to
Charles Grey, second Earl of Grey
, who was born on March 13, 1764. He was Prime Minister of Great Britain and Ireland in the early 1830s, but is most noted these days for being the man for whom
Earl Grey tea
was named.
This heavily-scented tea is either adored or scorned — there doesn't seem to be any indifference to it. Either you love the perfume of the bergamot orange oil that flavors Earl Grey or you loathe it. Let me state the obvious: It is one of my favorite teas, or else I wouldn't be celebrating today!
And how did the tea earn its association with Earl Grey?
According to Wikipedia: "... the tea was specially blended... for Lord Grey, to suit the water at Howick Hall, the family seat in Northumberland, using bergamot in particular to offset the preponderance of lime in the local water. Lady Grey used it to entertain in London as a political hostess," and it was very well-liked.
In honor of today's occasion, it only seemed fitting to bake some small sweets appropriate for an afternoon tea, an indulgence that I love but don't get to enjoy often enough. Small cakes struck my fancy, and somehow the tea needed to be incorporated. It only made sense that the flavor would be more noticeable in the glaze rather than baked in.
These are very quick to make — stir together the batter, bake the mini cakes in just a short amount of time, and then whip up a two-ingredient glaze once the cakes cool. That's it!
A small treat and a cuppa tea... what a perfectly charming way to toast the Earl of Grey.
Mini Jam Cakes with Earl Grey Tea Glaze
Cakes:
3/8 cup sugar
1 cup unbleached flour
1/2 teaspoon baking soda
1/4 teaspoon kosher salt
1/4 cup vanilla soy milk
1/4 cup olive oil
1 egg
1 tablespoon cider vinegar
1/8 cup blueberry jelly (or other fruit jelly)
Preheat oven to 350 degrees. Grease 16 mini muffin cups in a tin.
In a large bowl, combine sugar, flour, baking soda and salt. Combine soy milk, oil, egg, vinegar and jelly; the mixture won't fully blend, and there will be small dots of jam throughout. Pour liquid into the dry ingredients and combine well. Divide batter among the muffin cups. Bake for 15 minutes until a toothpick inserted into the center of a cake comes out clean and the cakes are golden. Let cool completely on a rack.
Glaze:
3/4 cup confectioners' sugar
2 tablespoons cold Earl Grey tea
Whisk confectioners' sugar and tea together. One by one, take the tea cakes and dip the tops into the glaze; turn right-side up and place onto a rack to let glaze set.
Makes 16 tea cakes.

Mary Bilyeu writes about her adventures in the kitchen - making dinner, celebrating holidays, entering cooking contests ... whatever strikes her fancy. She is also on a mission to find great deals for her Frugal Floozie Friday posts, seeking fabulous food at restaurants on the limited budget of only $5 per person. Feel free to email her with questions or comments or suggestions: yentamary@gmail.com.
You should also visit Mary's blog — Food Floozie — on which she enthuses and effuses over all things food-related.

The phrase "You Should Only Be Happy" (written in Hebrew on the stone pictured in this post) comes from Deuteronomy 16:15 and is a wish for all her readers - when you come to visit here, may you always be happy.