Posted on
Mon, Jul 18, 2011 : 8 a.m.
An egg 'n' onion Sandwich straight out of the classic film 'Harvey'
By Mary Bilyeu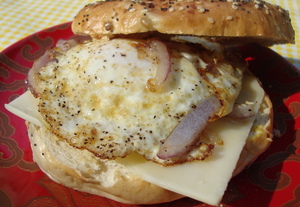 Mary Bilyeu | Contributor
Although some of my recent posts have been a bit less than noble, nutritiously (The Cupcake Station, Brownie Ice Cream Pie), others have been very health-oriented (Cabbage and Fennel Slaw, Tropical Granita).
Well, today I'm making no pretense of preparing anything that's good for me. Today, I'm simply offering something that was good for my soul. Sometimes you've just gotta give in and do that for yourself.
And so, I recently indulged in a toasted bagel with a fried egg and sauteed onion — an egg 'n' onion sandwich inspired by the old Jimmy Stewart movie "Harvey."
It's a screwball comedy about a man with a drinking problem and the family members who try to take care of him despite his, ahem, oddities. Harvey is the "pooka" — a benevolent character, manifesting as a six-foot rabbit not visible to everyone — who watches over Jimmy Stewart's Elwood P. Dowd and helps to create some chaos.
At one point, without sharing too much and spoiling the movie (because I do, indeed, expect you to go straight to Netflix and watch it instantly!), Elwood's sister and niece are caught up in escapades with the sanitarium in which they're trying to commit poor Elwood.
The niece, Myrtle Mae, happens to develop an immediate crush on one of the employees who's been sent to the house to bring back a patient. Fortunately, she rather strikes his fancy, too.
And so Myrtle Mae, not socially adept, asks the man a not terribly romantic or flirtatious question: would he like an egg 'n' onion sandwich?
And he accepts.
It's bashert [bah-SHAYRT], which is Hebrew for "destiny."
Eggs and onions make a great pair, whether in omelets or any other form. Add a slice of cheddar cheese to the Egg 'n' Onion sandwich, and you've got a perfect combination served on an "everything" bagel.
Egg 'n' Onion Sandwich
1 teaspoon bacon fat or butter
1/4 cup thinly sliced red onion
1 egg
1 everything bagel
schmear of Dijon mustard
1 slice cheddar cheese

Heat the bacon fat in a small skillet over medium heat. Add the onion and cook until just translucent.
Add the egg, being careful to keep the yolk intact, and nudge the onions into the raw egg to cook together. Cook until the edges of the egg are set and crisping. Carefully flip the egg and turn the heat off on the stove to let the underside cook while you prepare the rest of the ingredients.
Toast the bagel, and schmear the mustard onto it. Place the cheese on the bottom half of the bagel, top with the egg/onion, and then complete your sandwich with the top half of the bagel.
Makes 1 sandwich, which should be served with a napkin because the yolk will run. This is messy, but it's really good!

Mary Bilyeu has won or placed in more than 60 cooking contests and writes about her adventures in the kitchen. She was thrilled to have her post about Scottish Oatmeal Shortbread named as one of the daily "Best of the Blogs" by the prestigious Food News Journal.
Go visit Mary's blog — Food Floozie — on which she enthuses and effuses over all things food-related. Her newest feature is Frugal Floozie Friday, seeking fun and food for $5 or less ... really! Feel free to email her with questions or comments or suggestions: yentamary@gmail.com.
The phrase "You Should Only Be Happy" (written in Hebrew on the stone pictured in this post) comes from Deuteronomy 16:15 and is a wish for all her readers as they cook along with her ... may you always be happy here.