Posted on
Wed, Mar 28, 2012 : 10:05 a.m.
Fava bean salad - delicious even without 'a nice Chianti'
By Jessica Webster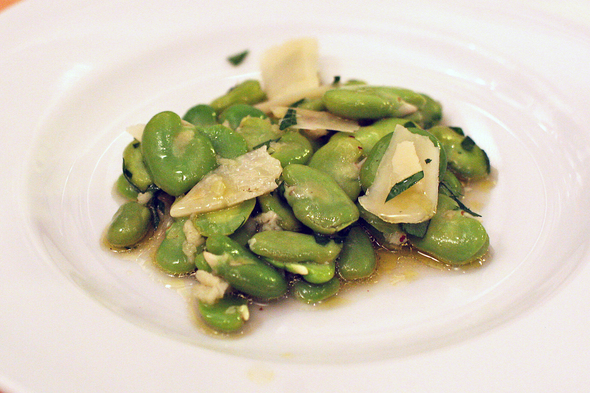 Jessica Webster | AnnArbor.com
Fresh
fava beans
have been showing up in local grocery stores over the last couple of weeks. These broad beans are delicious, nutty and buttery and are well worth the effort it takes to prepare them.
Like many Americans, my first exposure to fava beans came courtesy of Hannibal Lecter in "Silence of the Lambs." For me, fava beans, a nice Chianti, and that unfortunate census taker's liver are forever linked. But for Mediterraneans, fava beans have been a dietary staple for thousands of years.
Fava beans are rich in protein, iron and fiber. They've got no cholesterol and are low in sodium and fat. Oh — and they taste really, really good.
I only have one caveat when it comes to enjoying fava beans: they are a bit labor-intensive to prepare. First, you must shell the beans, removing them from their bumpy outer casing. Then drop the beans into boiling, salted water for 3-4 minutes. After the beans are nice and tender, drain them and plunge them into a bowl of ice water to shock them. After that is when the fun starts.
I recommend finding a friend or two and pouring a nice glass of wine (a Chianti, perhaps?). Removing the waxy outer covering of the fava bean takes some patience and a little bit of time. But the reward of watching the bright green bean emerge (and stealing a few to eat on the fly) is well worth it.
I snagged this recipe from The Produce Station's Facebook page. It originally comes from Food Network celebrity chef Bobby Flay. It's a perfect showcase for the fava bean, which stands at center stage, brightened by the tang of the lemon and garlic. It tastes like spring.
Bobby Flay's recipe calls for shaved Manchego cheese, but I swapped out a Detroit-made Asiago cheese from Traffic Jam & Snug. You could also use Romano if you have trouble finding Manchego or Asiago.
Fava Bean Salad with Lemon Vinaigrette and Shaved Asiago, adapted from a recipe by Bobby Flay
Ingredients
4 cups shucked fresh fava beans (start with about 4-5 pounds of unshucked beans)
1/4 cup fresh lemon juice
2 tablespoons minced garlic
1/4 cup olive oil
Salt and freshly ground black pepper
1/4 pound Asiago, Manchego or Romano cheese, shaved
2 tablespoons finely chopped flatleaf parsley
Directions
Fill a bowl with ice and water. Bring a large pot of salted water to a boil. Add the shucked fava beans and cook until just tender, 3 to 4 minutes. Drain and shock in ice water. Drain again and remove outer skins. Place the beans in a medium serving bowl. In a small bowl, combine the lemon juice, garlic and olive oil and whisk until blended. Season with salt and pepper to taste. Pour the mixture over the beans and mix well. Add the cheese, sprinkle with the parsley and serve.
Jessica Webster leads the Food & Drink section for AnnArbor.com. You can reach her at JessicaWebster@AnnArbor.com.