Posted on
Thu, Feb 2, 2012 : 11:55 a.m.
Fettuccine with sausage and leeks is a great dinner solution for busy families
By Jessica Webster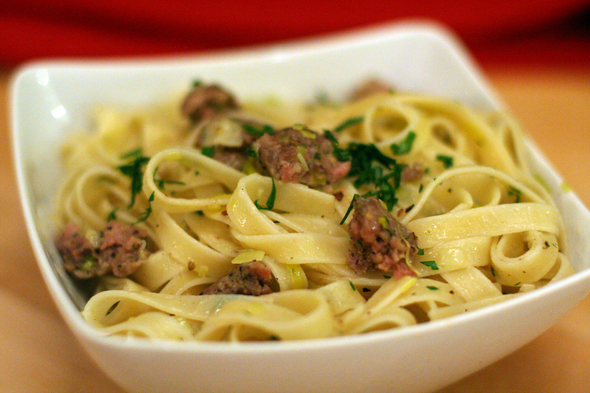 Jessica Webster | AnnArbor.com
Five weeks ago, we added a new member to our family. No, I haven't been gestating in secret — this family member has four legs and a very loud bark. Oh, and a fixation on food like you wouldn't believe.
That's right, we just adopted a dog from the Huron Valley Humane Society. My heart melted when we first set eyes on this young Rhodesian Ridgeback mix. And it's a good thing he's so cute, because he is a handful. In all my years of dog ownership, I've never faced such a challenge. Suddenly, John Grogan's "Marley & Me" doesn't seem even remotely hyperbolic.
So what does a dog have to do with a food column? In my case, everything. Ever since this dog arrived in my house, my solitary kitchen time has all but disappeared. I would say that it is like having a newborn again, but you rarely find newborns stealing food off the counters.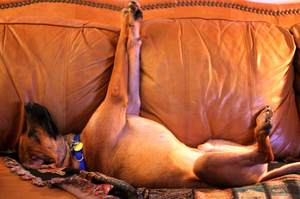 Jessica Webster | AnnArbor.com
I've had to learn to approach the kitchen like it's a war zone. (Having never been in a war zone, I imagine that this is a woefully inaccurate metaphor. But I think you understand what I mean.) New levels of planning are required to keep the dog and the food separated. Nothing leaves the fridge until the last possible moment, and everything must be covered at all times.
Quick, easy meals are now even more important than ever. I'm scouring cookbooks and food blogs for low-mess, short-ingredient-list meals that I can get on the table in less than 30 minutes.
This sausage and leek fettuccine fits the bill perfectly. Once your water is boiling, the rest of the dish comes together in less than 20 minutes. I started the sausage cooking, then dropped the pasta in the water. As the sausage cooked, I washed and sliced the leeks. (I like to fill a large bowl with warm water, cut the roots off the leeks, and submerge the leaves, carefully removing all the trapped sand and dirt. A second rinse with clean water should do the trick.) The cheese was grated and parsley chopped while the sauce simmered. Easy!
I read a good tip for those of us who tend to forget to reserve pasta water for the sauce: leave a measuring cup in the colander you plan to use for draining the pasta. That should trigger your memory before your pour all that water down the drain.
Fettuccine con salsiccia e porri (Fettucine with Sausage and Leeks)

-adapted from Academy Barilla's Italian Cuisine
Ingredients
2 tablespoons extra virgin olive oil
1 pound Italian sausage
2 leeks
1/2 cup dry white wine
1 1/2 tablespoons butter
Salt and black pepper to taste
1 pound fettuccine
2 ounces grated Parmigiano Reggiano cheese
2 tablespoons parsley, chopped
Directions
Bring a large pot of water to a boil.

Remove casing from sausage and fry gently in the oil until the sausage starts to brown.
Wash leeks, slice thinly and add to the sausage. Cook the sausage and leeks for a few minutes more, and then add the white wine. Cook until the liquid reduces. Season with salt and freshly ground black pepper and simmer, adding a few tablespoons of water as needed.
Cook the pasta in a large pot of salted boiling water. Drain the pasta when it is just al dente (aim for just shy of the shortest cooking time listed on the box), reserving 1/4 cup of the pasta water. Add the pasta, reserved water and butter to the simmering sausage and leek mixture and stir, coating the pasta well.
Divide among four plates or bowls and top with the grated Parmigiano Reggiano and parsley. Serve with a simple green salad and a baguette.
Jessica Webster leads the Food & Grocery section for AnnArbor.com. You can reach her at JessicaWebster@AnnArbor.com.