Posted on
Tue, Jan 24, 2012 : 7:30 p.m.
Five classic highball cocktail recipes everyone should know
By Jessica Webster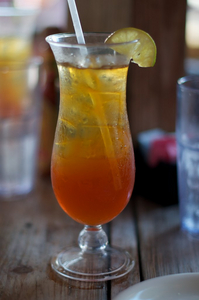 Photo by Flickr user Stephen Korecky.
We had a friend drop by unexpectedly the other night. She was having a rough day and needed some company. It seemed that
cocktails
were in order, so we headed to the kitchen, armed with my classic cocktails handbook. We lined up our impressive array of spirits on the kitchen counter and looked at each other expectantly.
It seemed that beyond a basic vodka martini and my regular cocktail of choice — the Negroni — none of us was well-versed in the art of mixology.
Serious Eats to the rescue. In a recent post on the food site, they put together a list of five essential highballs, complete with recipes.
A highball is a tall drink, usually made with spirits and a larger proportion of non-alcoholic mixer. The recipes included in the post run the gamut from a Dark and Stormy to the fruit-based Pimms Cup, a favorite in Great Britain.
You can read the full article on the Serious Eats site.
Jessica Webster leads the Food & Grocery section for AnnArbor.com. You can reach her at JessicaWebster@AnnArbor.com.