Posted on
Fri, Feb 3, 2012 : 11 a.m.
Frugal Friday at Bill's Hot Dog Stand - go for the root beer, stay for the value
By Mary Bilyeu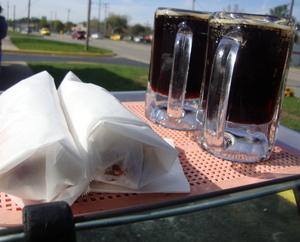 Mary Bilyeu | Contributor
Bill's Drive-In re-opened on Feb. 1, after a brief fall/winter hiatus. It offers hot dogs, chili dogs and root beer... a limited menu, but one that is excellent nonetheless. Focus on what you do well, as they say.
I would have featured this bright and friendly place sooner, but my son Jeremy and I visited just a few days before the season ended last fall. So, better late than not at all, the hot dog stand is today's Frugal Floozie Friday feature!
You may remember that Bill's root beer made my Top 10 list for 2011; Jeremy summed it up this way: "This is, like, the best root beer I've ever had in my life! It's amazing!"
And it is very good, with rich flavor and not too much of a head; when you get a mug of root beer at Bill's, you get a full mug. It's worth stopping by just for the soda alone.
But for less than $5 — our mandatory Frugal Floozie Friday budget — you can feed two people... I'm serious!
Jeremy ordered a hot dog schmeared with ketchup and mustard, I ordered a chili dog with onions, we made sure to get our root beer, and the total tab was ... drum roll ... $4.30. Yes, you read that correctly!
We drove up, parked the car, and before I could even reach to open the window, there was a very friendly attendant already waiting to take our order. He told us our options, we told him what we wanted, and he ran off. I turned to talk to Jeremy while we waited; he uttered maybe one sentence before telling me, "Lunch is here." Our food was brought that quickly.
So now that they've reopened, be sure to eat at Bill's. It's a long-time local favorite, and you'll be getting fast food that's also good food.
Bill's Drive-In
1292 E. Michigan Ave.
Ypsilanti, MI 48198
734-485-2831

Mary Bilyeu writes about her adventures in the kitchen - making dinner, celebrating holidays, entering cooking contests ... whatever strikes her fancy. She is also on a mission to find great deals for her Frugal Floozie Friday posts, seeking fabulous food at restaurants on the limited budget of only $5 per person. Feel free to email her with questions or comments or suggestions: yentamary@gmail.com.
You should also visit Mary's blog — Food Floozie — on which she enthuses and effuses over all things food-related.


The phrase "You Should Only Be Happy" (written in Hebrew on the stone pictured in this post) comes from Deuteronomy 16:15 and is a wish for all her readers - when you come to visit here, may you always be happy.