Posted on
Fri, Feb 24, 2012 : 8 a.m.
Frugal Friday at Cuppy's Best Soulful Deli - comfort food is cooked with love and served with smiles
By Mary Bilyeu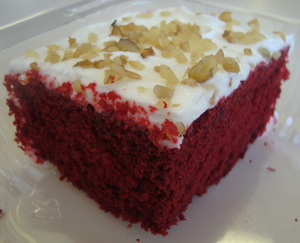 Mary Bilyeu | Contributor
I'd driven by so many times, yet had never managed to get to the small soul food restaurant on Michigan Avenue in Ypsilanti no matter how good my intentions were.
"I need to eat at that place. I should really stop by and pick up a little something to take home."
And yet, it didn't happen until just recently. I always seemed to be whizzing down the road to some destination other than food. So, I'm here to tell you: don't wait to go to Cuppy's Best Soulful Deli!
It offers generous portions of great food, homemade desserts and fabulously friendly service. My son, Jeremy, and I are so sorry that we didn't try it sooner.
Admittedly, many of the good ol'-fashioned dishes — smothered pork chops, ribs, catfish, oxtails, chitlins — cost more than our mandatory $5 per person Frugal Floozie Friday budget allows, unless you share them. But Jeremy ordered a generous cheeseburger with all the trimmings for $3; it came with fries for an extra $1, and his bottle of water cost $1. He hit the target perfectly.
I wanted a bit of variety, so I ordered two of the small (in name only) side dishes for $2 each: macaroni and cheese and collard greens. Side dishes at Cuppy's are all vegetarian, as one of the owners doesn't eat meat. Yes, even items that are normally cooked with pork products, such as black-eyed peas, are made without the usually traditional ingredient.
The collards were tender, not too salty, and ever so slightly sweet. They were very good, and didn't even need hot sauce (though it was provided on the table).
The macaroni and cheese was ideal comfort food. It was creamy, and the pasta practically melted on my tongue. There were generous flecks of black pepper to add just a hint of zest, and the caramelized cheese on top complemented the rest of the dish perfectly. Jeremy actually dared to tell me that he thinks Cuppy's mac 'n' cheese is better than mine!
We also ordered dessert because... well, who needs a reason? They call to you, tempting you, luring you in. For only $3, you can happily indulge in your seductive sugar fix.
I picked the gorgeous, rich red velvet cake pictured above and was even nudged to choose a corner piece featuring more of the creamy icing by a server after my own heart (and sweet tooth). Jeremy thought the banana pudding sounded most enticing, and it was really an effort to restrict myself to only one taste of it.
The pudding was as thick as frosting, lusciously decadent. It featured generous slices of bananas and whole cookies that had softened into the perfect texture. When Jeremy had finished, I'm not ashamed to admit that I scooped up the last remnants of this treat from the corners of the container.
Cuppy's is clearly enormously popular, as there were easily a dozen customers placing take-out orders while Jeremy and I sat and ate. There is a small counter with stools, and also two larger tables; you're welcome to stay while you enjoy your food, which is brought out to you by exceptionally friendly staff members.
A great deal is the Early Bird Special for only $4.99, offered Tuesday through Friday from 11 a.m. to 3 p.m. You can choose one of the following dishes for a great lunch: four wings, one pork chop, meatloaf, or one piece of fish, and each is served with a side dish and bread. Or you could order a sandwich with fries, choosing among the chicken breast or the pulled pork.
As we paid for our lunch, Jeremy and I raved about the food. A very nice man in the kitchen said, "Tell a friend." I said, "I'll do better than that; I'll tell all of Ann Arbor!"
If you haven't yet been to Cuppy's, you must rectify your negligence. You'll find excellent food cooked with love and served with smiles. And you can eat very well for only $5 per person!
Cuppy's Best Soulful Deli
1396 E. Michigan Ave.
Ypsilanti, MI 48197
734-320-2577
Monday: Closed
Tuesday - Thursday: 11 a.m. - 9 p.m.
Friday and Saturday: 11 a.m. - 10 p.m.
Sunday: 12 - 7 p.m.

Mary Bilyeu writes about her adventures in the kitchen - making dinner, celebrating holidays, entering cooking contests ... whatever strikes her fancy. She is also on a mission to find great deals for her Frugal Floozie Friday posts, seeking fabulous food at restaurants on the limited budget of only $5 per person. Feel free to email her with questions or comments or suggestions: yentamary@gmail.com.
You should also visit Mary's blog — Food Floozie — on which she enthuses and effuses over all things food-related.


The phrase "You Should Only Be Happy" (written in Hebrew on the stone pictured in this post) comes from Deuteronomy 16:15 and is a wish for all her readers - when you come to visit here, may you always be happy.