Posted on
Wed, Jun 22, 2011 : 8 a.m.
Garlic scape season has arrived: Try this seasonal delicacy in an easy pasta dish
By Mary Bilyeu

It's garlic scape season! I've been waiting all year for this precious two- or three-week week period, and it's finally arrived!
And what, exactly, is a garlic scape? According to WiseGeek.com:
"The garlic scape serves as the stem from which the seed head of the garlic bulb is formed. As the bulb begins to grow and mature, garlic stalks also begin to lengthen. During the growth period, the garlic scape begins to curve. Contained within the garlic scape is a great deal of flavor, although the stalk never does reach the level of the pungent garlic bulb itself."
Mary Bilyeu, Contributor
My friend and fellow Michigan Lady Food Blogger, the charming and radiant Diana Dyer, and her sweetheart of a husband, are garlic farmers; they're my sole trusted source of the precious scapes at the various farmers' markets in the area, with many varieties to offer and a wealth of information to generously share.
The Dyers tend to their garlic farm with wholehearted devotion: Diana told me that if they were to count each time the garlic is cared for in one way or another, it would probably total 20-25 separate events, from planting to harvesting.
And so, the garlic which will be available later this summer is amazingly wonderful, with each bulb offering its own strengths and colors and virtues.
But to me, the scapes are the most prized — not only for their flavor and versatility, but also because one must respect and accommodate their moment of glory.
Scapes represent seasonal eating, as they are only available for a short while. Then they become a happy memory and something to long for and anticipate through the rest of the year, with late spring bringing their joyous return.
Diana asked me how I prefer to prepare the scapes because, of course, she would recommend different varieties depending upon my plans.
As much as I adore her justly famous scape pesto recipe, my favorite thing to do is saute them in butter... a simple, flavorful preparation that showcases the scapes' flavor with little intrusion from other ingredients.
This time I added some white wine (I used Flip Flop Wines Riesling, a most generous marketing gift!) and a touch of cream, to infuse the sauce with more depth and richness.
Then I tossed some pasta and peas into the sauce, for a luxuriously sophisticated yet ridiculously easy dinner. And it was just perfection, after waiting an entire year for the opportunity to eat this luscious meal again.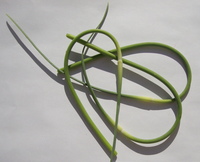 Mary Bilyeu, Contributor
Pasta and Peas with Garlic Scapes
6 ounces whole wheat pasta shells
1 cup frozen green peas
2 tablespoons butter
2 tablespoons extra-virgin olive oil
generous sprinkling of red pepper flakes
pinch of kosher salt
4 garlic scapes, minced
1/3 cup white wine
2 tablespoons cream
parmesan, for serving
Prepare the pasta according to package directions, adding the peas for the last minute of cooking.
Meanwhile, melt the butter and oil together over medium-low heat. Add the red pepper flakes, salt and garlic scapes; saute for 1 minute. Stir in the wine and bring to a boil; cook until reduced by half. Stir in the cream.
When the pasta is ready, pour the sauce over it and stir to combine. Place onto a serving platter and top with parmesan.
Serves 2-4.
Mary Bilyeu has won or placed in more than 60 cooking contests and writes about her adventures in the kitchen. She was thrilled to have her post about Scottish Oatmeal Shortbread named as one of the daily "Best of the Blogs" by the prestigious Food News Journal.
Go visit Mary's blog — Food Floozie — on which she enthuses and effuses over all things food-related. Her newest feature is Frugal Floozie Friday, seeking fun and food for $5 or less ... really! Feel free to email her with questions or comments or suggestions: yentamary@gmail.com.
The phrase "You Should Only Be Happy" (written in Hebrew on the stone pictured at the top of this post) comes from Deuteronomy 16:15 and is a wish for all her readers as they cook along with her ... may you always be happy here.