Posted on
Wed, Apr 4, 2012 : 10 a.m.
Gingered mango soup - a sweet and tart soup that's good warm or chilled
By Mary Bilyeu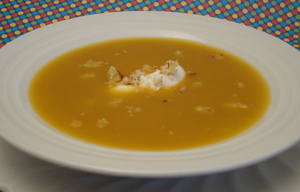 Mary Bilyeu | Contributor
I get all sorts of emails each day — some amusing, some informative, some obscene, some insulting, some adding to my "to do" list and many related to food. Friends compliment recipes and photos; they talk about taste memories, tell me what they plan to make for holiday dinners, or recommend restaurants with great $5 deals for my Frugal Floozie Friday posts.
In the midst of all this cyber-communication that can be good, bad or ugly, I received a really lovely email the other day. It was an invitation: an offer to pick up a case of Ataulfo mangoes, otherwise known as the Champagne variety, at the Whole Foods store just down the road from my office.
I was invited to "celebrate the creamy, buttery, virtuously fiber-free side of mangos ... with the Mexican Ataulfo mango. Say what? That's aht-ah-uhl-foe. There's a reason that (these) are a favorite, and you don't have to take our word for it. We'd love to... see just how many different uses you come up" with to prepare dishes featuring them.
Well, who was I to refuse such a generous gift? I stopped by the store after work to pick up a carton of 16 mangoes. And, well, while I was there I perused a bit ... wouldn't you?
I found something very intriguing: Siggi's Icelandic-style cream skyr yogurt (pronounced [skeer]). Greek yogurt is all the rage now, but this new variety I'd never tried struck my fancy. I bought the coconut flavor, thinking it would complement the mangoes well.
According to the package, "Skyr is the name for thick yogurt in Icelandic. Skyr is traditionally made from skim milk so cream-skyr refers to the quite delicious practice of putting a little bit of cream back into the skyr for a richer touch." It was very thick, slightly reminiscent in both texture and taste of sour cream that might have been strained.
And so, with my ingredients lined up and an idea brewing, on a recent cold, rainy evening I put those beautiful, bright, sweet, luscious, tender, ripe mangoes to use.
I made soup.
If you're feeling a bit unconventional, you can serve this as an appetizer. It's also appropriate for dessert, and you could serve it either warm or chilled, depending upon whether it's 40 or 80 degrees in your town this spring. (We've had both recently, here in Ann Arbor.)
The color is enticingly gorgeous, and the flavor is sweet with just a hint of tartness. The richness of the yogurt intensifies the flavors when it's swirled in. And the optional sprinkle of macaroon adds a bit of texture.
This soup brightened the chilly, dreary evening. How perfect is that? And how perfect would this gorgeous dish be for your Seder or for your Easter dinner?
Gingered Mango Soup
8 champagne mangoes, peeled, chopped (4 cups fruit)
2 cups sweet white wine
2 cups water
1/4 cup candied ginger
4 tablespoons honey
4 tablespoons pomegranate molasses
1 5.3-ounce container Siggi's Icelandic-style coconut yogurt
1 Manischewitz almond macaroon, crumbled (optional)
Place mangoes, wine, water, and ginger into a large saucepan; bring to a boil, then lower heat and simmer for 10 minutes. Remove the ginger.
Use an immersion blender to purée the fruit; alternately pour it carefully into a blender and puree until smooth, then return the soup to the saucepan.
Stir in the honey and pomegranate molasses; cook for 10 minutes, stirring occasionally. Skim the foam.
Divide soup among 4 bowls. Place a dollop of yogurt into each serving, and sprinkle with a bit of the macaroon.
Serves 4.

Mary Bilyeu writes about her adventures in the kitchen - making dinner, celebrating holidays, entering cooking contests ... whatever strikes her fancy. She is also on a mission to find great deals for her Frugal Floozie Friday posts, seeking fabulous food at restaurants on the limited budget of only $5 per person. Feel free to email her with questions or comments or suggestions: yentamary@gmail.com.
You should also visit Mary's blog — Food Floozie — on which she enthuses and effuses over all things food-related.


The phrase "You Should Only Be Happy" (written in Hebrew on the stone pictured in this post) comes from Deuteronomy 16:15 and is a wish for all her readers - when you come to visit here, may you always be happy.