Posted on
Tue, Sep 25, 2012 : 8 a.m.
Girl Scout Cookie Bake-Off 2012 Benefit recap
By Mary Bilyeu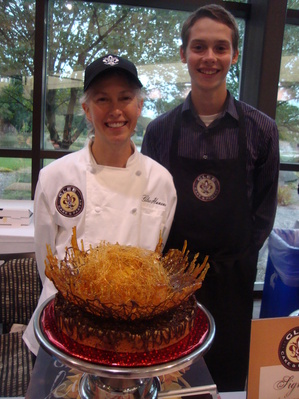 I had
such
an amazing time at the
Girl Scout Cookie Bake-off Benefit
this past Thursday evening! This event offered food, fun, and a fabulous cause: raising money to support outreach efforts to low-income and at-risk girls, letting them be a part of scouting and helping them to overcome difficulties in their personal lives.
Nine area chefs took Girl Scout cookies — which are already one of the greatest foods in the universe — and incorporated them into even grander and more glorious gourmet desserts. And I was one of the unbelievably lucky people who judged the entries! Everyone I know was envious of this tremendous good fortune; one of my friends even said that I should have an entourage, enabling others to come with me and share in the bounty.
It was so hard trying to decide which entry offered the best presentation, which used the cookies most creatively, and — especially — which tasted best. Chocolate and peanut butter is a classic combination that holds a very special place in my heart; and yet, there was a lovely kick from spice in one dessert, the dance of sweet and salty in another, the richness of caramel or a hint of mint in others... oh, decisions, decisions!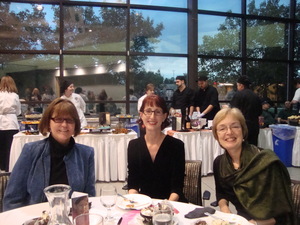 My fellow judges — Courtney Clark of Cake Nouveau, Carol Hart of MOVE Communications, Bernice Lindke of Eastern Michigan University and Kim Pritchard of the Michigan Institute of Aviation and Technology — tasted, analyzed, discussed and tasted some more. And here are the results of the judges' and guests' voting:
Judges' Choice:
1st Place: Cinnamon Walnut Caramel Bars with Sea Salt by Glee Havens of Glee Cake & Pastry
2nd Place: "Thank U Berry Munch" Cookie Pops by Randall Surline II of Schakolad Chocolate Factory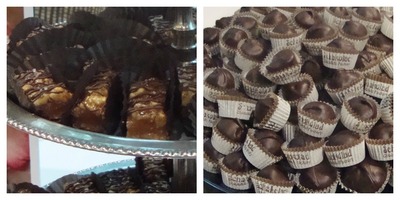 Mary Bilyeu, Contributor
People's Choice:
Faux Tagalong by Chris Troiano of Washtenaw Community College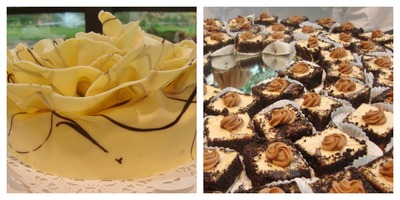 Mary Bilyeu, Contributor
Most Creative:
1st Place: Aztec Torte by Lisa DeLong of Gandy Dancer
2nd Place: Peanut Butter Bombe by Cheryl Hanewich of La Dolce Vita
Mary Bilyeu | Contributor
And here are other decadent entries, all of which deserve a huge round of applause: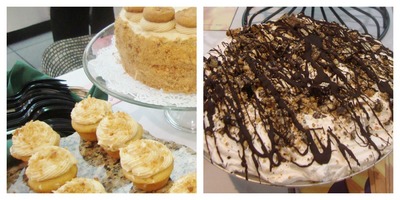 Mary Bilyeu | Contributor
- Vanilla Cupcakes with Salted Caramel Frosting by Kyle Kooyers of Fabulous Food Catering
- Tagging Along with Do-Si-Do Silk Pie by Nico Duca of Achatz Homemade Pie Company
- Thin Mint Bark by Carla Hoopingarner of Paesano Restaurant & Wine Bar
- Chocolate Thin Mint Cookie Crumble Cake by Kim Lippert of Knight's Steakhouse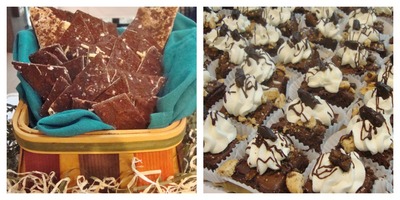 Mary Bilyeu, Contributor
Timothy Bos, of Bos Auction and Appraisal Services, was unbelievably entertaining as he nudged and encouraged generous bids for an assortment of great auction items. He even offered his own raffle tickets to one woman in exchange for a bid... and then one of those tickets won a prize for her! Tyler Crawford, of W4 Country Radio, was a great emcee; I heard him speak about the Bake-Off on his show the next day, and how he was still on a sugar high from all the extraordinary desserts we were able to enjoy.
Three scouts spoke beautifully about their experiences with their troop, and how meaningful the friendships and experiences are to them. And one of the troop leaders talked about her own experiences growing up under very difficult circumstances, of mentors who helped her, and of her desire to return this same favor to girls whom she can guide and inspire.
Many, many thanks to the Girl Scouts for inviting me to this party, and letting me be even a small part of supporting their mission!

Mary Bilyeu writes for AnnArbor.com on Tuesdays, Wednesdays, and Fridays, telling about her adventures in the kitchen - making dinner, celebrating holidays, entering cooking contests, meeting new friends ... whatever strikes her fancy. She is also on a mission to find great deals for her Frugal Floozie Friday posts, seeking fabulous food at restaurants on the limited budget of only $5 per person. Feel free to email her with questions, comments, or suggestions: yentamary@gmail.com.

Go visit Mary's blog — Food Floozie — where she enthuses and effuses over all things food-related; and look for her monthly articles in the Washtenaw Jewish News. "Like" her on Facebook, or send a tweet on Twitter, too.

The phrase "You Should Only Be Happy" (written in Hebrew on the stone pictured in this post) comes from Deuteronomy 16:15 and is a wish for all her readers - when you come to visit here, may you always be happy.