Posted on
Wed, Feb 22, 2012 : 11:30 a.m.
Gnocchi with creamy sweet potato sauce - no marshmallows required
By Mary Bilyeu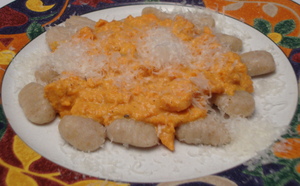 Mary Bilyeu | Contributor
There are all sorts of odd food holidays, and today's honorary occasion —
National Cook a Sweet Potato Day
— has to be fairly close to the top on that list.
But since sweet potatoes are so nutritious — high levels of vitamin C, potassium, and beta-carotene combined with a low glycemic index — no one should argue with some incentive to eat them more often. They're not just for Thanksgiving, and they don't need to be served with marshmallows on top!
I'm not sure what inspired this dish, which features gnocchi ([nYO-kee] — potato dumplings) served with a creamy sweet potato sauce. The notion simply popped into my head, so that's what I made — I have no other explanation.
It's remarkably rich and delicious, but not heavy. Its vibrant color is particularly appreciated in the midst of winter's dreariness, while its warmth and comfort provide sustenance. All in all, a rousing success!
Gnocchi with Creamy Sweet Potato Sauce
1 half-pound red garnet sweet potato, peeled, cut into 1/2-inch dice
water
1-1/2 tablespoons butter
1/2 cup milk
1/4 cup dry white wine (I used Flip Flop wines Pinot Grigio)
1/2 teaspoon kosher salt
generous sprinkling of freshly ground black pepper
1/4 teaspoon nutmeg
1 pound whole wheat gnocchi
Parmesan cheese, for serving
Place sweet potato cubes into a medium saucepan and cover with water; bring to a boil, then cook over medium-high heat for 25 minutes until sweet potatoes are tender. Drain water. Return sweet potatoes to the saucepan and mash them roughly.
Turn heat to low. Whisk in butter, milk, wine, salt, pepper and nutmeg; cook, stirring occasionally, while preparing gnocchi.
Bring a pot of water to boiling; add gnocchi and cook according to package directions. Drain.
Place gnocchi onto a serving platter, and spoon sweet potato sauce over them. Sprinkle with cheese and serve immediately.
Serves 2-4.
To read about my adventures judging the Ann Arbor Civic Theatre's 3rd Annual Chili Cook-Off, go to my blog, Food Floozie, and read today's post ....

Mary Bilyeu writes about her adventures in the kitchen - making dinner, celebrating holidays, entering cooking contests ... whatever strikes her fancy. She is also on a mission to find great deals for her Frugal Floozie Friday posts, seeking fabulous food at restaurants on the limited budget of only $5 per person. Feel free to email her with questions or comments or suggestions: yentamary@gmail.com.
You should also visit Mary's blog — Food Floozie — on which she enthuses and effuses over all things food-related.

The phrase "You Should Only Be Happy" (written in Hebrew on the stone pictured in this post) comes from Deuteronomy 16:15 and is a wish for all her readers - when you come to visit here, may you always be happy.