Posted on
Mon, Jun 4, 2012 : 11:30 a.m.
Greek Basil Bow Tie Pasta Salad is a great make-ahead recipe for a party
By Peggy Lampman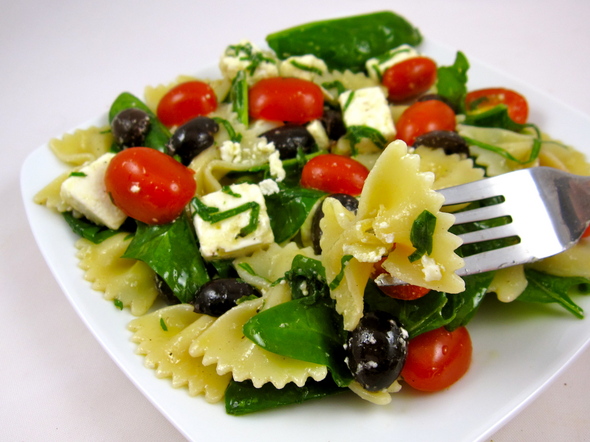 Peggy Lampman | Contributor

To receive my lastest dinnerFeed posts
by email, sign up here.
Congratulations to the first graduating class at Skyline High School and all of the graduating high school's around town! Reading Facebook and Twitter updates, I share in my friend's excitement, remembering the mixed emotions of pride and nostalgia I felt when my daughter and son graduated.
If you are one of the lucky ones hosting a graduation party, I have a few sure-fire recipes up my sleeve. This Greek Basil Bow Tie Pasta Salad is a favorite as it's a terrific multi-tasker.
Much of the salad may be made in advance. Cook the pasta and toss with the vinaigrette and feta 24 hours before serving. The spinach, tomatoes, basil and olives be tossed with the bow ties an hour or so before serving. It may be gussied up as well, by tossing with grilled fennel, radicchio or quartered artichoke hearts. Add poached chicken breast or cooked shrimp and you're serving a main course salad.
Finally, the salad travels well. Place in gallon-sized Zip-locks in an iced cooler and your good to go.
This make-ahead Chicken Taco Salad and Party Pesto and Chicken Salad are other great recipes for graduation parties.
Yield: 10 cups pasta salad
Time: 35 minutes
Ingredients
3 cups uncooked bow tie (farfalle) pasta
1 1/2 tablespoons freshly squeezed lemon juice
1 teaspoon minced garlic
1/2 cup extra virgin olive oil
9 large basil leaves
3 cups (loosely packed) baby spinach, washed and spun dry
3/4 cup pitted kalamata olives, sliced in half lengthwise
1 1/2 cups grape tomatoes, washed then sliced in half lengthwise
7 ounces feta cheese, cubed or crumbled*
Directions
1. Cook bow ties in salted water according to package directions. (If you overcook the pasta, it will fall apart somewhat and loose its bow tie shape.)
Whisk together lemon juice, garlic and oil.
2. To make basil ribbons (chiffonade), roll 3 basil leaves together tightly, cigar-style. With a sharp knife, cut rolled leaves into thin ribbons. Repeat with remaining basil leaves.
3. Toss pasta with dressing, spinach, olives, tomatoes, feta and basil ribbons. Season to taste with kosher salt and freshly ground pepper.
*I used a 7-ounce package of Valbresso French Feta cheese, and cut it into cubes for this recipe.