Posted on
Wed, Feb 15, 2012 : 2 p.m.
Greek beef and pepper stir fry - a simple dish showcases vibrant flavors
By Mary Bilyeu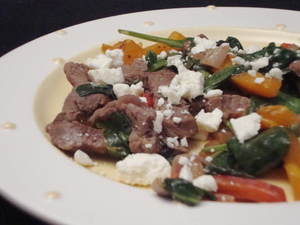 Mary Bilyeu | Contributor
As per usual, I found myself one evening with tidbits of leftover ingredients floating around in my kitchen. Every so often, a girl's gotta have a "clean out the fridge" night!
I didn't want to make fajitas with my beef and peppers, and I didn't want to make a Chinese-style dish either. So I meandered over to a different continent for inspiration and cooked up a Greek stir fry instead.
This was ridiculously easy to prepare, but the flavors were so vibrant! A little sweet, a little tart, a little salty... it was a perfect mix. The oregano and the olive oil combine beautifully with the vegetables, transforming them from the mundane and familiar into something new. And the lemon juice and feta liven things up a bit, as well.
This was good enough that it deserves to be made again, rather than just having been a way to use up leftovers. You could serve this over rice, and it would be lovely. It would be wonderful stuffed into a pita. But if you're eating a low-carb diet, this is fabulous all on its own, too. And for those who don't want the meat, just double the peppers.
For a meal that was based upon scraps, this certainly did rise above the sum of its measly little parts!
Greek Beef Stir Fry
3 tablespoons extra-virgin olive oil
1 small red onion, halved, sliced
1 small red pepper, quartered, sliced
1 small orange pepper, quartered, sliced
1 pound thin-cut beef steaks, sliced
1 teaspoon dried oregano
1/2 teaspoon kosher salt
juice of 1 small lemon
3 cups baby spinach leaves
1/3 cup crumbled feta cheese
Heat the oil over medium-high heat in a large skillet. Add the onion and peppers; saute for 5 minutes until vegetables are tender.Add beef, lower heat to medium, and saute just until meat is thoroughly browned. Add oregano, salt and lemon juice; cook for 1 minute. Add spinach and cook just until wilted. Remove from heat, place onto a serving dish, and sprinkle with Feta.
Serves 2-4.

Mary Bilyeu writes about her adventures in the kitchen - making dinner, celebrating holidays, entering cooking contests ... whatever strikes her fancy. She is also on a mission to find great deals for her Frugal Floozie Friday posts, seeking fabulous food at restaurants on the limited budget of only $5 per person. Feel free to email her with questions or comments or suggestions: yentamary@gmail.com.
You should also visit Mary's blog — Food Floozie — on which she enthuses and effuses over all things food-related.

The phrase "You Should Only Be Happy" (written in Hebrew on the stone pictured in this post) comes from Deuteronomy 16:15 and is a wish for all her readers - when you come to visit here, may you always be happy.