Posted on
Wed, Feb 1, 2012 : 3 p.m.
Grilled Tuna with Wasabi Butter benefits from choosing sushi-grade steaks
By Peggy Lampman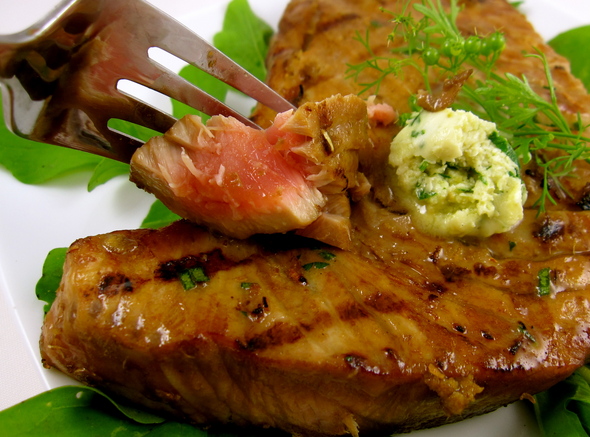 Peggy Lampman | Contributor

mean fighting machine!
Were those really my crocus nudging their little heads through the earth yesterday? Due to the unseasonable warm weather of late, I've been hit hard with spring fever and am bringing out the grill. Granted the forecasted high today is sinking to 44 degrees, but we're Michiganders; we're supposed to be shoveling snow in February.
Many of my friends continue grilling in sub-zero blizzard conditions, but I draw the line at temps below 40. Today satisfies this criteria, so I've selected one of my favorite grilled tuna recipes.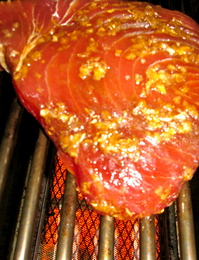 Sashimi fiend that I am, I insist my tuna be rare on the inside and golden brown to lightly charred on the outside, which means I purchase ahi, sushi-grade tuna steaks. For lesser grades of tuna, prepare grill to medium high heat and cook until just done. If you continuously baste the tuna with the marinade, it will still remain moist and juicy.
If you share my predilication for rare, I recommend your ahi steaks be at least 3/4-inch thick (preferable 1-1 1/2 inch), your heat searingly hot, and that you use a quick cooking time — about 2 minutes per side. You'll hit just the right note when serving this with Sesame Noodles and Edamame.
Bring on the heat! If only it would last.
Marinate time: 5-8 hours
Active time: 20 minutes
Number of servings (yield): 4
Ingredients
2 tablespoons soy sauce
2 tablespoons sesame oil
1 tablespoon rice wine vinegar
2 tablespoon vermouth, sweet or dry (optional)
2 teaspoons brown sugar
1 teaspoon minced garlic
2 teaspoons grated fresh ginger
2 pounds tuna steaks, about 1 to 1 1/2-inch thick
2 tablespoons unsalted butter
1-3 teaspoons wasabi paste
1 tablespoon chopped cilantro
Directions
1. Make a marinade by whisking together soy sauce, sesame oil, rice wine vinegar, vermouth, if using, brown sugar, garlic and ginger. Marinate tuna in marinade at least 5 hours and up to 8 hours, turning steaks once after 3-4 hours.
2. Combine butter, 1 teaspoon wasabi paste and cilantro; add additional wasabi to taste. Refrigerate until ready to use.
3. Prepare a gas or charcoal grill to high heat. Grill 2-3 minutes per side for rare, basting with sauce. (Check level of doneness by pushing fork prongs into the thickest part of the tuna and gently pushing flesh aside.) Divide wasabi butter over hot tuna steaks and serve.
My new website has recently been launched (www.dinnerFeed.com)! I'm a real-time food writer and photographer posting daily feeds on my website and in the Food & Drink section of Annarbor.com. You may also e-mail me at peggy@dinnerfeed.com.