Posted on
Wed, Jan 25, 2012 : noon
Hope for a level playing field and a Fair Farm Bill
By Kim Bayer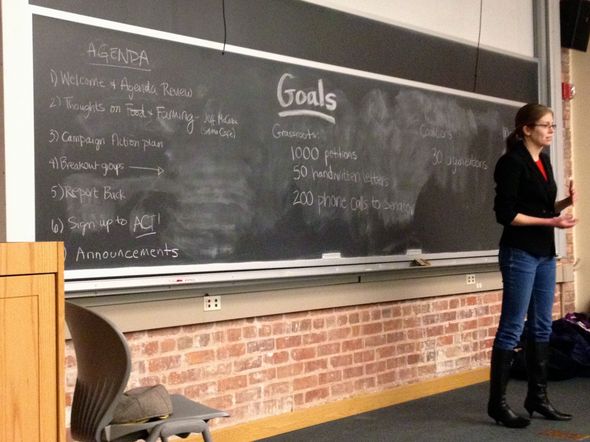 Kim Bayer | Contributor
For the past several years, farmer Kris Hirth has been teetering on the brink between the success and failure of Old Pine Farm, her Manchester-based sustainable meat CSA farm. Determined to raise her animals humanely, on pasture, and with only non-GMO and organic feed, she's chosen a hard row to hoe.
Not only are the processors for her meat almost non-existent, she is also among the majority of small farmers, the ones who raise meat and vegetables for food, who don't get government subsidies. Instead, our tax dollars funding the Farm Bill go to commodity growers.
According to the Environmental Working Group's 2011 Farm Subsidy Database, tax payer dollars to commodity crop growers (corn, soy, wheat, etc.) in Michigan totaled $4.35 billion from 1995 through 2010. Subsidies for corn alone were more than $2 billion.
In Kris Hirth's recent "state of the farm" new year letter, she writes, "There were some smiles, some proud moments, and some miracles. There were also some very tough challenges. After several years of trying to find (and afford) certified organic grain for our hogs and chickens we succeeded!
In January of 2011 we found a farmer in another county willing to charge us a 'little less' than double the non-organic grain rate. We also found a way to get it from his farm to ours. This means a lot to me...but last July's extra high grain prices almost put us under. Certified organic grain went through the roof. Monsanto be damned — we stuck with it and made it through using organic grain, a few prayers, and help from a couple of wonderful people (where would we be without our hardcore supporters?)!"
Kris Hirth is one example of the many small family farmers who live here, who work to feed our communities and who prioritize good environmental stewardship. But these farmers who grow healthy food where we live are not getting help from the billions we spend on one of the biggest pieces of legislation we have — the Farm Bill.
As we know now, subsidies for processed corn and high fructose corn syrup have created unintended consequences that are at the root of some our toughest societal problems, including soil degradation, an epidemic of diabetes and obesity and the consequent health care crisis.
But this year, Michigan's got game. President Obama may be coming on Friday to highlight his role in turning around the auto companies, but more importantly Michigan is a key player in something that could affect our daily lives even more than who is our next president.
The vitally important Farm Bill is up for renewal this year, and Michigan Senator Debbie Stabenow is chair of the Agriculture Committee that will craft any new legislation. We know that the status quo in our food system is resulting in rampant obesity and diabetes, and out of control insurance costs, but this could be the year that Farm Bill policy changes to prioritize health and sustainability over shareholder profits.
Recognition of Michigan's citizens' role to persuade Senator Stabenow to support a "Fair Farm Bill" is the motivation for the nonprofit public advocacy group Food and Water Watch to send community organizers to Ann Arbor, Battle Creek and Traverse City.
After failing in previous attempts to spur meaningful change in the Farm Bill with more effective regulation of vertically integrated meat producers, this time around Food and Water Watch is promoting the inclusion of anti-trust language and legislation, which they call "a comprehensive competition title" in the new farm bill. They believe enforcement will help break up the current monopolistic control of a few companies and level the playing field for small and mid-sized farmers.
On Jan. 18, FWW organizer Alexandra Beautyman hosted one of the year's first "Fair Farm Bill" meetings in Ann Arbor. Almost 60 students and other advocates attended the meeting at the School of Natural Resources and Environment on the University of Michigan campus.
Noting that a monopoly is defined as four or fewer companies with 40 percent control of a single market, Beautyman pointed out that four companies control 83 percent of the national beef market, one company controls 40 percent of the national milk market, and one company controls 40 percent of the national seed market.
Beautyman went on to ask participants to prepare for a statewide "day of action" on Jan. 24 in support of a Fair Farm Bill. Goals in support of a Fair Farm Bill included: 1,000 postcards, 200 phone calls and 50 handwritten letters to Senator Stabenow, and sign-on of 30 coalitions.
For the Jan. 24 day of action, Food and Water Watch asked key community members to go on the record with reasons to support a Fair Farm Bill.
Andrea Ridgard, project manager of the Four Season Farm Incubator and
Tilian Farm Development Center says, "Most farmers in our country do not have the luxury of supporting themselves through local sales alone and find themselves tied to a big agribusiness that is able to purchase their food, process it and ship it across the country.
Often farmers become dependent on these big businesses who have a monopoly over the livestock, milk and seed markets. Their power extends into the political realm where they have much control over regulations such as the Farm Bill that are largely written to promote the continuation of their growth and the decreasing power of small farms. Existing policy makes it difficult, if not impossible for most farms to survive without this kind of connection to agribusiness."
Bill Alt, Program Coordinator for the Interfaith Council for Peace and Justice, says, "Why does a Fair Farm Bill matter to people of faith? Food, the breaking of bread, the sharing of a meal, is integral to all of our religious traditions. It is part of our rituals and our relationships. Religion is about being in right relationship. Relationship with God (or sense of the sacred), with one another (especially the poor and vulnerable), and with ourselves. Sadly, our current food system is harmful to those relationships. It is literally making us sick, and hurting not only our health but also the health of our communities and our world. This is a social justice issue."
Caitlin Joseph, Education and Outreach Coordinator for the People's Food Co-op observed: "Currently, there are a small number of companies that dominate all aspects of our food system. It wasn't always like this. Federal policies got us into this situation, and now we need policies that will help to get us out. Everyday I witness more people taking this issue into their own hands by supporting local farms with their dollar, or starting their own local food business. But these efforts can only go so far. In order for fresh, safe, and healthy food to be a reality for every family in this country, we need policies that don't encourage corporate control of our food."
Although serious debate on a new Farm Bill is just beginning, Alt called on community members to "call Senator Stabenow today and ask her to work for a fair farm bill that protects small farmers and promotes competition."

Food and Water Watch suggests:
You can reach Senator Stabenow's office at 877-559-7809, and here is a script you can use for the call:
"Hi, I'm ________, a constituent in __________, Mich.. I'm disappointed that Senator Stabenow didn't use her important position as Chair of the Agriculture Committee to support the GIPSA rule last year, which would have helped to protect Michigan's family farmers and consumers. She should stop sitting on the sidelines and take a stand by introducing a comprehensive competition title in this year's Farm Bill to level the playing field for small farms and consumers. Thank you."
Kim Bayer is a freelance writer and culinary researcher. Email her at kimbayer at gmail dot com.