Posted on
Thu, Mar 15, 2012 : 8 a.m.
Ides of March sweet-and-sour onions - no need to be wary of this delicious Roman recipe
By Mary Bilyeu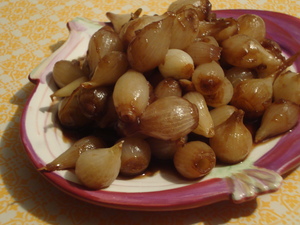 Mary Bilyeu | Contributor
Today is the infamous Ides of March. Julius Caesar was murdered by a group of conspirators on this day, March 15, in the year 44 B.C.
An article on NationalGeographic.com notes that, "For ancient Romans living before that event ... an ides was merely one of several common calendar terms used to mark monthly lunar events. The ides simply marked the appearance of the full moon."
But after the assassination, "The phrase came to represent a specific day of abrupt change that set off a ripple of repercussions throughout Roman society and beyond."
To commemorate this day, it's necessary to serve something not just Italian but specifically Roman. Italians are very regional in their cuisine, with laws requiring "truth in advertising," so to speak, to denote that a particular item was indeed produced in a precise area and that it meets clearly-defined standards.
The concept of "Italian food" is anathema; there is only the cuisine of Emilia-Romagna or Abruzzo or Calabria. And these regions are still further localized, as shown, for example, by the famous ragu Bolognese from the city of Bologna within Emilia-Romagna. These are very serious matters, you know! Respect must be shown!
Thus, today's dish is not merely "Italian Sweet-and-Sour Onions," Dio non voglia! (God forbid!) It is Cipollini in Agrododolce alla Romana [chee-poh-LEE-nee in ahg-roh-DOHL-chay ah-lah roh-MAH-nah], otherwise known as Baby Onions in Sweet-and-Sour Sauce in the Roman style.
What, precisely, makes this a Roman recipe? It's "Easy to make, good for you, gutsy, flavorful and fun to eat," according to cookbook author David Downie. Since "all roads lead to Rome," as the saying goes, Roman food incorporates ingredients from many surrounding areas; and yet, it retains distinctive traditions and taste combinations, such as the sweet-and-sour offering below.
Roman cooking is noted for its simplicity, letting top-quality ingredients shine with a minimum of preparation. Cucina povera — poor people's food — survived many sieges and battles, as Romans ate what could easily be grown in even harsh conditions.
In Shakespeare's Julius Caesar, the title character was warned to "Beware the Ides of March."
But there is no need to be wary of this recipe for onions that are served at trattorie (bistros) throughout Rome. While traditionally this is an appetizer, it's a very simple, aromatic, and delicious dish that would be an ideal accompaniment to many entrees.
Cipollini in Agrododolce alla Romana
(adapted from a recipe in David Downie's Cooking the Roman Way)
2 10-ounce bags pearl onions
2 tablespoons extra-virgin olive oil
2 large garlic cloves, minced
1/4 cup white wine vinegar
1/4 cup balsamic vinegar
1 cup water
1/2 teaspoon kosher salt
1 tablespoon sugar
Fill a large saucepan with water; bring to a boil. Add the onions and boil for 3 minutes; drain and rinse well under cold water. Trim the root ends off the onions and peel the skins off. (This is a bit laborious, but frozen pearl onions aren't as nice as the fresh ones; it's worth the effort.)
In the same saucepan, heat the oil over medium heat; add the garlic and sauté just until starting to color. Add the onions back into the saucepan; add the remaining ingredients. Bring to a boil, then turn heat to "low;" cook for 20-25 minutes, stirring once halfway through, until the onions are fork-tender and most of the liquid has evaporated.
I don't normally post on weekends, but this girl who's one-quarter Irish is, indeed, aware that Saturday is St. Paddy's Day. (I'll be judging the Brisket Bake-off at Temple Beth Emeth that evening; but I'll wear green, and they're also serving that Irish staple — potatoes!) So, a few days early, here are some Irish-themed recipes for your upcoming festivities:

Mary Bilyeu writes about her adventures in the kitchen - making dinner, celebrating holidays, entering cooking contests ... whatever strikes her fancy. She is also on a mission to find great deals for her Frugal Floozie Friday posts, seeking fabulous food at restaurants on the limited budget of only $5 per person. Feel free to email her with questions or comments or suggestions: yentamary@gmail.com.
You should also visit Mary's blog — Food Floozie — on which she enthuses and effuses over all things food-related.

The phrase "You Should Only Be Happy" (written in Hebrew on the stone pictured in this post) comes from Deuteronomy 16:15 and is a wish for all her readers - when you come to visit here, may you always be happy.