Posted on
Fri, Mar 23, 2012 : 4:41 a.m.
Kale Salad with Lemon-Honey Dressing showcases a nutritional superstar from the garden
By Peggy Lampman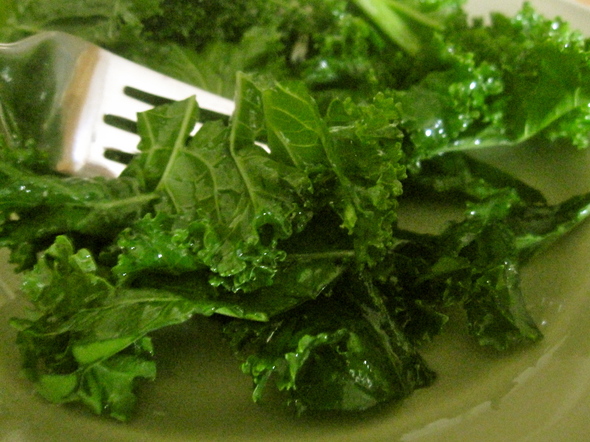 Peggy Lampman | Contributor

mean fighting machine!
The kale I'm using for this salad was planted a year ago. That's right. It made it through our mild winter intact. Its frilly leaves froze over the holidays and now have thawed, without so much a trace of frostbite!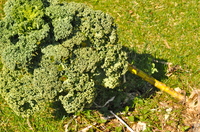 What fortitude, what a survivor, what a superstar!
Kale, indeed, is a superfood
.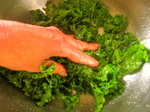 A superfood is a food rich in phytochemicals: Chemicals that have disease-fighting properties. Curly leaf kale, packed with vitamins, minerals, antioxidants, and phytochemicals, make it one of the most nutritious green vegetables around.
A friend, Rebecca Bawkon, shared this "cleansing" recipe with me several years ago. Here's another recipe for Tuscan Kale with Oranges I've enjoyed.
Yield: 4 servings
Time: 12 minutes
Ingredients:
1 bunch small-medium curly green kale, washed
1/4 cup extra virgin olive oil
1/4 cup freshly squeezed lemon juice
2 tablespoons honey or agave
Instructions
1. With a sharp knife, remove tough center ribs from kale. Discard ribs or reserve for another use. Chop leaves into 1-2-inch pieces.
2. To make a dressing, whisk together the olive oil, lemon juice and honey or agave. Massage dressing into kale leaves. Season to taste with kosher salt and freshly ground pepper. (At this point, I let the salad "marinate" at room temperature an hour or so; the extra time seems to tenderize the leaves.)