Posted on
Mon, Mar 26, 2012 : 10:45 a.m.
Lemony Quinoa with Chickpeas and Crunchy Vegetables is a great dish to welcome spring
By Peggy Lampman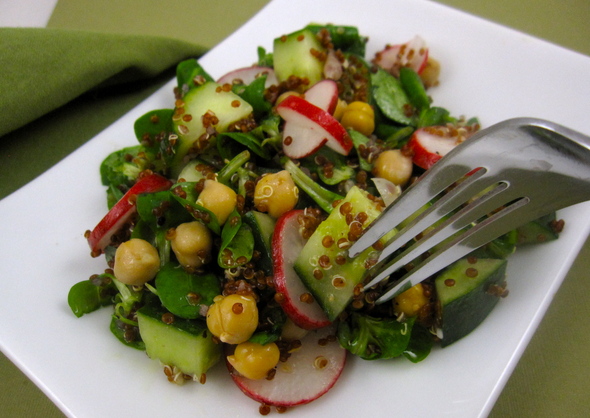 Peggy Lampman | Contributor

mean fighting machine!
I'm craving a detox something or other to balance the exigencies surrounding Drew's second birthday celebration yesterday. Grilled burgers and brats set the stage.
The juicy brats had that crispy skin that snapped back when you bit it — how could I not have a second? The meal was topped off with mint chocolate chip ice cream cake and treats plucked from the driveway, which was strewn with candy from the busted pinata. (And friends tell me to get a life.)
This salad — which I'll munch on the next couple of days — should realign my sails. In the recipe below, I combined idle squatters consuming refrigerator space with pantry staples, but I'm thinking carrots, tomatoes, red onion, scallions, avocado or beets would be fine substitutions for any of the perishable ingredients listed below.
I didn't have any feta on hand, but the creamy, tangy sheep's milk cheese would be a fine complement. If you're planning on leftovers, leave out the greens and stir in just before eating.
Here are links to other welcome-to-spring dishes I turn to when the boat is off-kilter: Grilled Salmon with Edamame and Oranges, Barbecued Asian Tofu, Roasted Beet & Beet Green Salad, Curried Israeli Couscous with Eggplant, Chickpeas and Cucumber Salad, Chickpeas and Cabbage Salad, and Roasted Broccoli & Farro Salad.
Yield: 4 (main course) servings Time: 25 minutes
Ingredients
1/2 cup dry quinoa
1/4 cup fresh squeezed lemon juice (1 juicy lemon)
1/4 cup extra virgin olive oil
1 teaspoon minced garlic
1/2-1 cup fresh chopped or torn basil
1 1/2 cups cooked chickpeas (1 15-ounce can)
1 cup sliced radishes
1 English cucumber, diced
4 cups raw greens such as mache, baby spinach or arugula
Crumbled feta,optional
Instructions
1. Cook quinoa according to package instructions, and cool.
2. Make a vinaigrette by whisking lemon juice, olive oil, and garlic together.
3. Stir basil, chick peas, radishes, cucumber, greens and quinoa into salad. Season to taste with kosher salt and freshly ground pepper. Top with feta, if using, and serve.