Posted on
Mon, Mar 19, 2012 : 8 a.m.
Lentil salad with red pepper hummus dressing offers gorgeous flavors and lots of nutrition
By Mary Bilyeu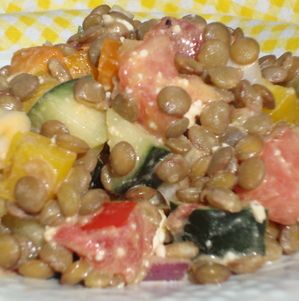 Mary Bilyeu | Contributor
I was poking through my pantry recently, and I found I have a lot of lentils... three bags of lentils —brown, yellow and red. And it seemed to me that if I have this many lentils at my disposal, perhaps I should actually make something with them!
And so, on one of our recent warm, sunny, spring-like days, I made a light and nutritious salad rather than a warm and hearty soup, which might have been the option had I cleaned out the pantry only a few days earlier when the high was 40 rather than 70 degrees.
This salad offers gorgeous colors, vibrant flavors and tremendous health benefits. Serve it on its own for a light meal, or as an accompaniment to meats or fish.
How great is it when one simple recipe provides so much?
Lentil Salad with Red Pepper Hummus Dressing
1 cup brown lentils
1/2 small red onion, chopped
1 medium tomato, chopped
1/2 small cucumber, seeded, chopped
1/2 small orange pepper, chopped
1/2 small yellow pepper, chopped
1/3 cup crumbled feta cheese
2 tablespoons red pepper hummus
1 tablespoon extra-virgin olive oil
1 tablespoon lemon juice
generous pinches of kosher salt and freshly ground black pepper
Place lentils into a medium saucepan and cover generously with water. Bring to a boil, then turn heat to "low" and cook for 25-30 minutes until lentils are tender; drain, rinse under cold water, and place into a medium bowl.
Add onion, tomato, cucumber, peppers and feta to the lentils. Combine the hummus, oil, lemon juice, salt and pepper; pour over the salad and stir to combine.
Serves 6-8 as a side dish.

Mary Bilyeu writes about her adventures in the kitchen - making dinner, celebrating holidays, entering cooking contests ... whatever strikes her fancy. She is also on a mission to find great deals for her Frugal Floozie Friday posts, seeking fabulous food at restaurants on the limited budget of only $5 per person. Feel free to email her with questions or comments or suggestions: yentamary@gmail.com.
You should also visit Mary's blog — Food Floozie — on which she enthuses and effuses over all things food-related.

The phrase "You Should Only Be Happy" (written in Hebrew on the stone pictured in this post) comes from Deuteronomy 16:15 and is a wish for all her readers - when you come to visit here, may you always be happy.