Posted on
Sun, Jan 17, 2010 : 6:30 a.m.
Line stretches down Main Street for Jolly Pumpkin beer release
By David Bardallis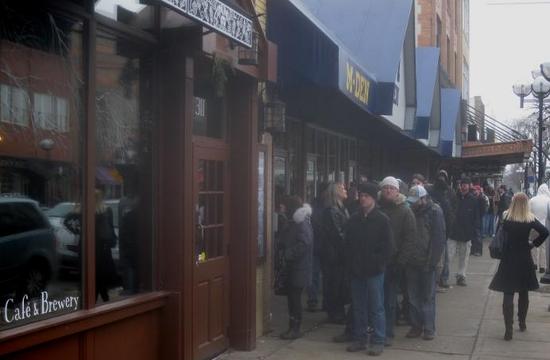 David Bardallis | Contributor
Cindy Hegenauer and Dede Phillips-Hoydic got what they came for. So did 200 others willing to wait in line nearly two hours.
"We got here at 11," said Hegenauer. "We wanted to make sure we got ours."
The what in question was Perseguidor Oak Aged Ale, released annually by Jolly Pumpkin Artisan Ales. This is the fifth version of the much-anticipated brew, which was sold four bottles at a time to folks who began forming a line outside Jolly Pumpkin Café & Brewery, 311 S. Main, more than an hour before Sunday's noon release.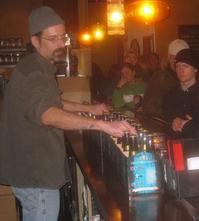 David Bardallis | Contributor
Perseguidor is a blend of three matured Jolly Pumpkin ales,
La Roja
,
Luciernaga
, and
Bam Biere
, aged in oak barrels for 6 months and conditioned in bottles for another 6 months. The result can best be described as "yum."
The brewery sold 40 cases, with each 12 oz. bottle going for $9.50, and it was all gone within 2 hours. A beer dinner scheduled for 4pm—and rumored to also include bottles of the first Perseguidor—was canceled due to too few reservations. It seems people preferred to run straight home with their bottles and pair them with their own imaginations.
If you missed out, well, there's always next year!
David Bardallis is a freelance writer and editor, blogger, bon vivant, and man about town. Visit his Web site, DavidBardallis.com, to engage his services or read his latest. Email your beer-related thoughts to annarborbeer@gmail.com, follow @dbardallis on Twitter, or join the "All the Brews Fit to Pint" Facebook page.