Posted on
Thu, Feb 16, 2012 : 10:30 a.m.
Linguine with clam sauce - a culinary classic that is fun to eat
By Peggy Lampman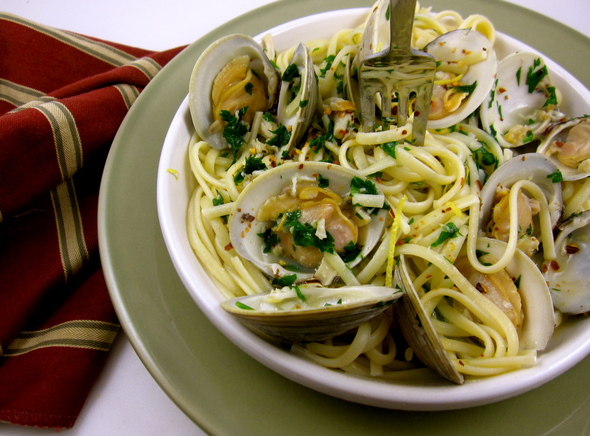 Peggy Lampman | Contributor

mean fighting machine!
With the soul of the earth and scent of the sea, primal senses quicken when devouring a bowl of Linguine and Clam Sauce — few culinary classics, in fact, are such fun to eat.
Spearing the mollusk and prying it from its shell, you thrust it into a tangle of pasta, twirling your fork to create a spool of noodles. Then, bringing it to your mouth, you pause, inhaling the brackish, buttery scent. And at last — oh, at last! — the bite.
The amorous marriage of pasta cooked "to the tooth," housing a chewy clam steamed in mercurial bliss burst in symphonic rapture. Ahhhh... yes, yes... this is it; this is what I've yearned for. You take a sip of wine.
My recipe for Linguine and Clam Sauce is one of my husband Richard's favorite comfort foods, and he requested I make it for his birthday dinner. It reminds him of the abundant shellfish he ate as a child, which he took for granted growing up in Upper State New York.
The sum of this easy-to-prepare recipe is only as delicious as the quality of its parts. First the clams. I chose Atlantic Little Necks, from Richard's neck of the woods. Cherry stones, also from the East Coast, are a bit larger and may be substituted for Little Necks with great results. Small Manila clams, farmed in the Pacific Northwest, would be a savory selection and are prized by chefs for their sweet flavor.
Of course the ultimate linguine for this dish would be made from scratch, preferably by your Neapolitan grandmother. If energy and ancestry don't allow, you could select one of my favorites, locally made Al Dente or Mama Mucci, or De Cecco pasta imported from Italy.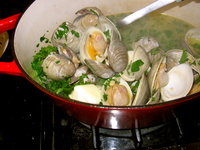 I prefer my pasta cooked with a bit of core bite, but never so hard that it's not tender and "twirlable" around a fork. Except when cooking noodles for cold pasta salads, I don't rinse my noodles either; the remaining starch helps the noodles cling to the sauce. The directions on the packaging are good indicators of cooking times, although an older pasta may take longer to cook than the package suggests.
Oh — let's not forget the wine, in fact, never forget the wine. I selected an inexpensive, yet quaffable, Pinot Grigio (Mezzacorona), purchased at Whole Foods, which I used to steam the clams then serve with the meal.
According to Wikipedia, in October 2007 an Arctica islandica clam, caught off the coast of Iceland, was discovered to be at least 405 years old. Bangor University researches declared it the world's oldest living animal, christening it the Ming Clam, after the Ming dynasty born of the same period. Scientists are hoping the discovery of Ming will assist in researching the aging process, with clues on how some animals thwart old age.
If the fountain of youth is housed between tight walls of a bivalve, I speculate a heavy consumption may waylay our aging process, as well. Sweet consolation for Richard blowing at candles wallpapering his cake.
Linguine with clam sauce
Yield: 3 servings
Time: 25 minutes
Ingredients
1 pound dry linguine
1/3 cup of extra virgin olive oil, plus extra for drizzling
24-36 littleneck clams scrubbed and rinsed well
1 1/2 tablespoons finely chopped garlic
1 cup white wine
Zest (2 teaspoons) and juice (3 tablespoons) from 1 juicy lemon
3 tablespoons unsalted butter
1 cup fresh flat-leaf parsley, coarsely chopped
Red pepper flakes
1 loaf of crusty bread (the essential "mop" for the sauce)
Directions
1. Bring a large pot of salted water to a boil. Cook pasta according to package instructions; do not rinse. (Note: Linguine brands have different cooking times; time the end of your pasta cooking time to when your clams have just finished cooking.)
2. Meanwhile, heat 1/3 cup olive oil over medium-high heat in a large-lipped heavy-bottomed pan with a lid or a Dutch oven. Stir in garlic and cook, stirring, until fragrant but not overly browned. Stir in clams, wine, lemon juice and zest. Cover and cook, shaking pan once or twice, until most of the clams are opened, 6-8 minutes; discard clams that have not opened.
3.Whisk butter and parsley into the broth, then toss cooked pasta into the clam mixture. Allow pasta to sit in juices a few minutes, covered, to absorb the flavors. Season with additional olive oil and red pepper to taste and serve with bread.
Visit AnnArbor.com contributor Peggy Lampman at dinnerFeed.com for more seasonal recipes and local value. You may follow her at twitter.com/dinnerfeed to get daily mini-recipes.