Posted on
Mon, Aug 16, 2010 : 5 p.m.
Martha Washington's Great Cake: Don't judge a cake by its frosting
By Erin Mann
Erin Mann is baking a new cake every week for a year from the "All Cakes Considered" cookbook and shares her adventures here on AnnArbor.com. Read past columns here.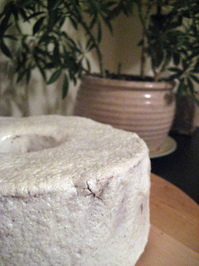 Erin Mann | Contributor
Martha Washington's Great Cake is by every definition of the of the word
great
. It's a sizable confection, easily weighing as much as a pile of bricks, that takes the run time of a "Lord of the Rings" film to prepare. But if you've got an afternoon, the patience, and the desire to dazzle your friends with your baking skills, it certainly has
great
flavor.
Historically, Martha Washington prepared the Great Cake for hubby George in celebration of their wedding anniversary on Jan. 6, 1759. The Mount Vernon Ladies Association hands out Martha's original recipe every holiday season:
"Take 40 eggs and divide the whites from the youlks and beat them to a froth start work 4 pounds of butter to a cream and put the whites of eggs to it a spoon full at a time till it is well work'd then put 4 pounds of sugar finely powderd to it in the same manner then put in the Youlks of eggs and 5 pounds of flower and 5 pounds of fruit 2 hours will bake it add to it half an ounce of mace 1 nutmeg half a pint of wine and some frensh brandy." Martha Washington's original recipe, as it appears in "Great Cakes" by Carole Walter
Imagine mixing all those ingredients by hand! "All Cakes Considered" provides a modern version of the recipe, which can be found here at NPR.org.
I began prep with my assorted fruits and nuts. The recipe calls for 1 1/4 pounds (20 ounces, divided into 18 ounces of fruit and 2 ounces nuts) of your choice. I chose almond slivers, Michigan dried cherries and Transparent apples. (Feel free to be creative here, it's your cake! Pears, dried apricots, cranberries, hazelnuts and pecans would also be good options.) I peeled and chopped 3 apples and put the pieces in a bowl of cool lemon water to prevent browning until I was ready to use them.
I used a kitchen scale to weigh my fruits and nuts. If you don't have a kitchen scale, don't fret, my pet! I've figured out the measurements by volume for you:
2 ounces slivered almonds = 1/2 cup 8 ounces dried cherries = 1 1/4 cup 8 ounces chopped apples = 1 1/2 cup
(Note: Three apples turned out to be too many, but Transparent apples make excellent applesauce.)
Next, I separated a whopping 10 eggs and measured the rest of my ingredients.
This cake calls for both brandy and wine. I used some Applejack I had on hand from previous baking and opened a brand-new bottle of Merk Verduzzo, a fruity white wine that I thought would lend good flavor to the cake. This is my first experience adding wine to cake. A little online research uncovered a variety of "wine cake" recipes and wine is said to add moisture to a cake.
After baking and cooling the cake, I made the meringue frosting (while cursing the hot, steamy weather under my breath). Humidity does not bode well for egg whites, remember? I beat 3 egg whites while slowly adding confectioners sugar in 2-tablespoon increments. The frosting was looking good up to this point; the egg whites were increasing in volume and starting to form a thick, fluffy, glossy white frosting.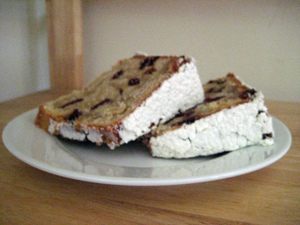 The next step in the frosting recipe calls for 2 tablespoons of orange extract and some lemon zest. I thought the amount of extract sounded excessive but I always make the recipe "as is" first, before experimenting with adjustments and substitutions.
While still beating the frosting, I slowly added the extract and zest. The frosting lost its thickness and was now a more soupy version of the glossy white frosting. Another blogger who made this cake reported similar results with this frosting recipe.
I trimmed the domed top off the cake with a serrated knife and turned it upside down on a piece of parchment paper on top of a cookie sheet before applying the frosting so there would be less mess later. The frosting went on more like a glaze than a frosting but I managed to cover the entire cake without it all oozing off. I put the cake back in the oven for 1 hour at 200 degrees; this dries the meringue frosting and makes it crackly.
"It's not going to win any beauty pageants but I'm sure it will taste good," remarked Rex when I pulled the cake out of the oven the second time. He was right -- my version of the cake wouldn't turn heads, but it would tantalize taste buds. It's incredibly dense and fruity, and the combination of mace, nutmeg and orange extract in the frosting reminds me of ginger. The cake would also be "great" without the meringue frosting or with a simple glaze.
Erin Mann is a lover of all things cake and is ruining diets one cake at a time. Email her at SheGotTheBeat@gmail.com or follow her on Twitter. Facebook users can also keep up-to-date with A CAKE A WEEK by joining the group.