Posted on
Thu, Aug 8, 2013 : 7:34 a.m.
Mexican Street Corn Biscuits
By Jessica Webster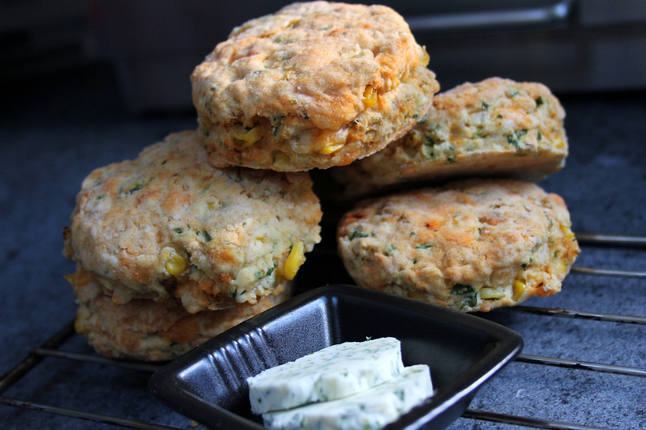 Jessica Webster | AnnArbor.com
Summertime, and the cooking is easy. The
sweet corn
is rolling in to local farm stands and markets by the bushel, making my daily dinner question: "What shall I cook to go along with this corn?"
After enjoying some corn on the cob, corn chowder and some corn and herb farro this summer, I got the itch to incorporate some corn into my baking.
A recipe for charred corn fritters arrived in my inbox from a family member with a note: "Please make these for us." They looked delicious, but I really hate cleaning up after frying, and I've had more than my fair share of soggy fryer misadventures.
Instead, I decided that what we really needed was a charred corn biscuit. Baked, not fried. And as long as I was changing the recipe, I decided to go all the way and make this a Mexican street corn biscuit, adding cilantro, smoked paprika and cheese, with some lime and cilantro butter on the side.
After some experiments with a Red Lobster-style cheddar biscuit (good, but a little dense), I settled on a classic buttermilk biscuit approach. The small amount of sugar in the dough heightens the sweetness of the corn, and the light flakiness makes it hard to eat just one.
I went easy on the cheese, but you can add more if you're looking for a really cheesy biscuit. Feel free to use a more flavorful cheese, like a sharp cheddar, if that's up your alley.
Mexican street corn is usually lathered in sour cream or crema, which doesn't make a whole lot of sense on a biscuit. I served my biscuits with a compound butter made with cilantro and lime zest.
Mexican Street Corn Biscuits
3 cups all purpose flour
1 teaspoon sugar
4 teaspoons baking powder
1 teaspoon salt
1 teaspoon baking soda
1 1/2 sticks chilled unsalted butter, cut into 1/4-inch cubes
1 cup buttermilk
1/4 cup cilantro
1 cup shredded cheddar or Monterey Jack cheese
2 ears of fresh sweet corn
1 tablespoon smoked paprika

Preparing the corn:
Shuck the corn and remove as much corn silk as you can. Grill the corn over direct heat (on a grill or over a gas range burner) turning regularly, until the corn is lightly charred on all sides. Let the corn cool for a few minutes, then remove the corn kernels from the cob and set aside.
Preparing the biscuits:
Preheat oven to 425 degrees.
Sift together the flour, sugar, baking powder, salt and baking soda in a large bowl. Rub the butter into the flour mixture with your fingertips until the mixture resembles coarse meal.
Stir in the cilantro, cheese, corn and paprika. Add the buttermilk and stir until the dough just forms. Add more buttermilk if necessary to incorporate all the dry ingredients.
Lightly pat the dough out on a floured surface with floured hands until it's about 3/4-inch thick. Limit your hands-on time as much as possible to avoid melting the butter.
With a biscuit cutter (a drinking glass will work in a pinch) cut the dough into rounds and place them onto a cookie sheet, about one inch apart. Bake for about 15 minutes, or until the biscuits are golden brown on top.
Let the biscuits cool slightly, but eat them while they're still nice and warm. Serve with lime and cilantro compound butter.
Lime & Cilantro Compound Butter
1/2 cup softened butter
1/4 teaspoon salt
1 tablespoon minced cilantro
1 teaspoon lime zest

In a medium bowl, mix the room-temperature butter with salt, cilantro and lime zest. Place the butter mixture in the middle of a piece of parchment paper (or plastic wrap). Fold the parchment paper over and gently roll the butter back and forth until you have a log shape. Twist the ends of the paper together, and put the butter log into the fridge for two hours to firm up.
Jessica Webster leads the Food & Grocery section for AnnArbor.com, a part of the MLive Media Group. Reach her at JessicaWebster@annarbor.com. You also can follow her on Twitter or subscribe to AnnArbor.com's email newsletters.