Posted on
Thu, Jan 12, 2012 : 8 a.m.
Mozzarella-stuffed turkey meatballs an elegant dish that can serve as appetizer or entree
By Mary Bilyeu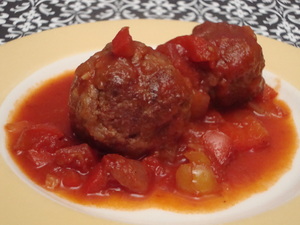 Mary Bilyeu | Contributor
Fresh mozzarella was on sale at the grocery store recently, so I thought I'd buy a container and then figure out what to do with it. This is often how things work here — I don't head to the store with a plan, but rather find out what's on sale or being offered as a manager's special (on the verge of its "sell by" date and thus discounted). I bring the loot home and then write about whatever concoctions I've devised with my stellar deals.
This is an elegant and sophisticated dish which gives no indication at all of being inspired by a sale item. An assortment of pantry staples such as bread crumbs, olive oil and canned tomatoes were combined with some fresh vegetables and wine already on hand. The result was a spicy sauce and some tender
meatballs
filled with melting cheese. It was exceptionally good!
I'm proud of both my shopping skills and also of how wonderful this meal was!
Mozzarella-Stuffed Turkey Meatballs

Sauce:

2 tablespoons extra-virgin olive oil
1/4 teaspoon red pepper flakes
2 large garlic cloves, minced
1 small yellow onion, chopped
1 small yellow pepper, chopped
1 small red pepper, chopped
1/2 cup grape or cherry tomatoes, quartered
1 teaspoon kosher salt
pinch of freshly ground black pepper
1 14.5-ounce can crushed tomatoes
1/2 cup red wine

Meatballs:

1/2 pound ground turkey
1/2 teaspoon kosher salt
pinch of freshly ground black pepper
1/2 teaspoon Italian seasoning
1/4 cup fine dry bread crumbs
6 3/4-inch cubes fresh mozzarella
2 tablespoons extra-virgin olive oil


Make the sauce: In a medium saucepan, heat the oil over medium heat. Add the red pepper flakes, garlic, onion, peppers, fresh tomatoes, salt and pepper; cook, stirring occasionally, for 10 minutes to soften the vegetables. Add the wine and the crushed tomatoes; bring to a boil, then turn heat to low and continue simmering.

Make the meatballs: In a medium bowl, combine the turkey, salt, pepper, Italian seasoning and bread crumbs; mix well. Form 6 meatballs. One by one, flatten the meatballs into small patties; place 1 cheese cube into the center, then wrap the cheese in the turkey, making sure to seal it well. Repeat until all of the meatballs have been stuffed.

Heat the oil in a small skillet over medium-high heat. Add the meatballs and cook for 5 minutes, turning them frequently to brown them all over.

Carefully add the meatballs to the sauce, cover, and cook for 30 minutes.

The meatballs and sauce can be served "as is" for a traditional Italian "secondi" ([seh-GON-dee] = second course), or they can be served over rice or pasta. (In Italy, a first course offers pasta, rice, or soup; the second course would offer meat, and then subsequently there would be vegetables, salads, and dolci — [DOHL-chee], sweets.)

Serves 2-4.

Mary Bilyeu writes about her adventures in the kitchen - making dinner, celebrating holidays, entering cooking contests ... whatever strikes her fancy. She is also on a mission to find great deals for her Frugal Floozie Friday posts, seeking fabulous food at restaurants on the limited budget of only $5 per person. Feel free to email her with questions or comments or suggestions: yentamary@gmail.com.
You should also visit Mary's blog — Food Floozie — on which she enthuses and effuses over all things food-related.


The phrase "You Should Only Be Happy" (written in Hebrew on the stone pictured in this post) comes from Deuteronomy 16:15 and is a wish for all her readers - when you come to visit here, may you always be happy.