Posted on
Mon, Feb 20, 2012 : 6:49 a.m.
Muffaletta (New Orleans Meat and Olive Sandwich) is the sandwich that defines New Orleans
By Peggy Lampman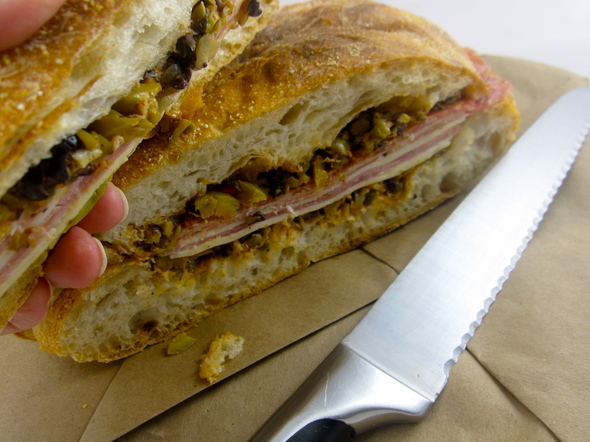 Peggy Lampman | Contributor

mean fighting machine!
The party's in full swing, and by party, I mean the ultimate party: Mardi Gras, that crazy festive season before Lent when participants joyfully embrace every available form of Bacchanalian debauchery, culminating in a Fat Tuesday flurry of I'll-repent-tomorrow paczkis.
I loved being in the thick of Mardi Gras when I was a teenager, but I much prefer the slower pace of New Orleans in off-season when traveling — and I can always enjoy their food. If you can't make it to Central Grocery on Decatur Street, to pick up a Muffaletta — the sandwich that defines the city — here's a recipe I make right here in Ann Arbor. I couldn't find the exact bread they use (a thick sesame-topped Italian-styled bread) but Zingerman's Paesano, to my tooth, is preferred.
Click here for a slide show of my Louisiana kitchen favorites.
Active Time: 15 minutes (when using purchased olive salad)
Refrigeration Time: 2-6 hours
Number of servings: 4
Ingredients for Muffaletta:
1 large (8-inch) round bread loaf
1 1/2 cups Cajun or Creole olive salad*
8 ounces cured Italian ham thinly sliced (such as mortadella, capocolla or other salamis or hams)
8 ounces Italian cheeses, thinly sliced such as mozzarella, provolone or fontina
*Purchase ready-made or make your own (recipe below)
Directions for Muffaletta:
1. Slice the bread in half horizontally, and remove 1/2-inch of doughy inside bread to make room for the fillings.
2. Spread 1/2 of the olive salad and its oil on the cut edges of the bottom piece of bread. Layer meat and cheese on top of the olive salad. Spread remaining 1/2 of olive salad on top of meats. Place top of bread, cut side down, over bottom half to make a sandwich.
3. Wrap in plastic wrap and refrigerate, weighted down (bricks, a heavy pan or cans work well), 2-6 hours before slicing into wedges.
Ingredients for Olive Salad:
3/4 cup pitted black Mediterranean olives
3/4 cup pitted large green olives
3/4 cup Giardineira (or substitute with pepperoncini or olives)
2 tablespoons capers
3 tablespoon extra virgin olive oil
2 teaspoons dry oregano
1 teaspoon paprika
Directions for Olive Salad
In a food processor, pulse ingredients together until coarsely chopped. This is a chopped salad and should not be puréed.