Posted on
Mon, Jun 20, 2011 : 1 p.m.
My Midsummer Night's Dream - 5 ways to capture the longest day of summer
By Kim Bayer


Flickr photo from Craig Wilson
Bonfires are the common theme if you look up ways to celebrate the summer solstice around the world. In our northern clime, the longest day of the year seems worthy of celebration when you consider the days now diminish until their nadir six short months from now on a dark Dec. 21.
Between June 21 and June 24, cultures from Sweden and Finland to Portugal and Germany, Serbia and Spain celebrate the sun and the longest day of the year with traditions like: gathering flowers and special herbs; observing the sunrise for a year of good health; ritual bathing (in morning or evening dew, or in the nude); saunas; heavy drinking; and fireworks of both the actual and euphemistic sort. The large population of Finns in Michigan's U.P. are among the midsummer, or Juhannus, bonfire lighters.
The fact that there are so many place-specific customs made me wonder what a midsummer celebration might be in the southern part of the Great Lake State.
I got started down this path after drooling over a recent article from the NPR website, Party Like the Swedes on Summer Solstice, chronicling the delicious customs of "midsommar," filled with aquavit, rye bread, shrimp salad and Tosca cake.
That sense of trying to capture the essence of summer reminded me of something I've been considering ever since hearing about a place in Italy where people bottle a green walnut liqueur on the summer solstice that they will open to drink on the winter solstice. What fearful solstice symmetry! And what part of summer could I bottle now in hopes of experiencing a warm, flower-scented breeze in the depths of winter?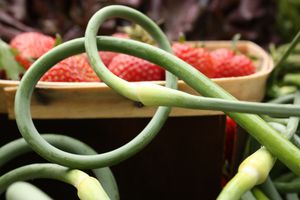 Contributor | Kim Bayer
So for the apogee and perigee of the earth's cycle, here's my Midsummer Night's daydream: In June, a bonfire with applewood smoked whitefish. Peas and new potatoes. Salad with toasted chevre and lavender honey. Strawberries and cream. And a cucumber-rose martini.
As for bottling the essence of summer, here's the list of what I hope to be huddling around come December: Rhubarb. Strawberries. Roses. Lavender. Elderflowers. Garlic scapes.
They are going to be bottled as:



Rhubarb sauce with star anise and coriander


Strawberry rose jam




Pickled garlic scapes



As for the pickled garlic scapes, I was lucky to get a recipe from Chef Brandon Johns of Grange Kitchen and Bar, who says:
"What I like about scapes and green garlic is they are the first garlic after a long winter on non-local garlic. The flavor of both is more mild, but we use them as a substitute for regular garlic in a lot of dishes. I use up to five pounds of each in a week. The season for green garlic seems to be about the month of May, scapes the month of June... though Dick Dyer would obviously have a better idea. We use them in sautes, soup, pastas... anything you would use garlic in. And we love to pickle the scapes."
Grange Kitchen and Bar's Pickled Garlic Scapes
1 quart water
1 quart white wine vinegar
1 cup sugar
2 tablespoon salt
2 bay leaves
1 teaspoon each peppercorns, coriander seeds, mustard seeds, fennel seeds
2 sprigs fresh thyme
1 pound garlic scapes, cut into 2 inch lengths
Bring everything but scapes to a boil, simmer 15 minutes, pour over scapes. Cool and store in the fridge for as long as they last.
Kim Bayer is a freelance writer and culinary researcher.