Posted on
Thu, Feb 9, 2012 : 9 p.m.
National Bagels and Lox Day - schmear and celebrate
By Mary Bilyeu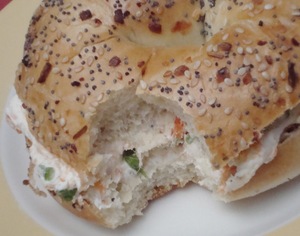 Mary Bilyeu | Contributor
I grew up in New York City, so bagels were — of course! — an essential part of my diet. Bagels, thin-crust pizza perfectly suited to folding, black-and-white cookies, matzah ball soup ... these are just a few of the basic food groups in my world. I could go on and on, but we'd all just get hungry and wish we were schlepping around in my hometown, eating our way from deli to pizza parlor to food cart.
According to America's Great Delis: Recipes and Traditions from Coast to Coast by Sheryll Bellman: "The modern bagel arrived in America in the early 1880s with a wave of Eastern European Jewish immigrants. Not long after that, cream cheese was developed and lox met its mate.... The genius that married the bagel with cream cheese and lox is a mystery, but we do know that it occurred sometime early in the twentieth century." This is one of those innovations, like duct tape, that warrants a prize of some sort!
I don't normally eat much bread or many foods made with refined carbohydrates (my sweet tooth causing me to make an exception to the rule occasionally, I must admit). But today is a special day requiring some deviation from my usual preferences. So bring on the bagels!
And no bagel is complete, of course, without a schmear of cream cheese and some gorgeous lox.
In today's "recipe" (what, a bagel an' a schmear requires instructions?) I advocate for chopping the lox and the scallions and mixing them into the cream cheese, rather than serving the bagel with a slab of fish or a slice of onion. This allows for the flavors to blend together in each bite, rather than any one ingredient overpowering the others.
But however you slice it (ha!), just be sure you don't miss out on this fabulous food holiday!
Bagel an' a Schmear
6 ounces soft cream cheese
2 medium scallions, chopped fine
2 ounces lox, chopped fine
generous sprinkle of freshly ground black pepper
2 everything bagels (or savory bagels of choice — don't try this with a raisin bagel!)
In a medium bowl, combine cream cheese, scallions, lox and pepper; mix well, cover, and refrigerate for at least 1 hour (and preferably overnight) to let the flavors blend.
Slice the bagels, then schmear them with the cream cheese mixture.
Serves 2.

Mary Bilyeu writes about her adventures in the kitchen - making dinner, celebrating holidays, entering cooking contests ... whatever strikes her fancy. She is also on a mission to find great deals for her Frugal Floozie Friday posts, seeking fabulous food at restaurants on the limited budget of only $5 per person. Feel free to email her with questions or comments or suggestions: yentamary@gmail.com.
You should also visit Mary's blog — Food Floozie — on which she enthuses and effuses over all things food-related.
The phrase "You Should Only Be Happy" (written in Hebrew on the stone pictured in this post) comes from Deuteronomy 16:15 and is a wish for all her readers - when you come to visit here, may you always be happy.