Posted on
Tue, Mar 1, 2011 : 6 a.m.
National peanut butter lovers' day
By Mary Bilyeu

Today is a
holiday
that almost anyone can celebrate:
National Peanut Butter Lovers' Day
! (Those with allergies are excused, of course, but the rest of you are expected to be throwing a party.)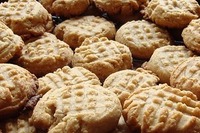 Mary Bilyeu, Contributor
In case there was any doubt left in anyone's mind, I am one of peanut butter's biggest fans. It truly is the most amazing food!
Cookies, muffins, pies, candies ... the treats that we simply couldn't live without are good options for your festivities. No day is complete without a little something sweet, after all!
Mary Bilyeu, Contributor
You can feast upon sandwiches: the classics — like PB&J or Fluffernutter — or a fabulous grilled Elvis, warm and gooey and so satisfying with peanut butter and banana oozing out from the bread (I always add a shmear of honey, too).
Or then there's a healthier option, featuring peanut butter with apples. Prepare a buffet table, and let folks pick their favorites!
There are even savory international favorites — like African Peanut Soup or Thai noodles or Asian dipping sauces. You can plan an entire meal, from appetizers to entrees to desserts, with this indispensable ingredient. And feel free to do so today!
National Peanut Butter Lovers' Day is a cause for celebration and adoration. How many other foods are so adaptable? I adore blue cheese and Dijon mustard, and use them in everything from salads to sandwiches to eggs to pasta; but even *I* draw the line at desserts!
And while foods like chocolate or jam can be used in entrees — for example, I always add chocolate to beef/pork-based chilis, and jam is lovely in a sauce over chicken — they have some specific savory uses but not a wide variety of them.
Peanut butter, however, is glorious at any time of day and for any meal!
So enjoy! Celebrate! Truly, today is a very special day.
Mary Bilyeu has won or placed in more than 60 cooking contests and writes about her adventures in the kitchen. She was thrilled to have her post about Scottish Oatmeal Shortbread named as one of the daily "Best of the Blogs" by the prestigious Food News Journal.
Go visit Mary's blog — Food Floozie — in which she cooks, reviews restaurants and generally enthuses and effuses over all things food-related. And feel free to email her with questions or comments: yentamary@gmail.com.
The phrase "You Should Only Be Happy" (written in Hebrew on the stone pictured at the top of this post) comes from Deuteronomy 16:15 and is a wish for all her readers as they cook along with her ... may you always be happy here.