Posted on
Tue, Mar 27, 2012 : 3 p.m.
Oberon overrated? Haiku writers disagree
By Jessica Webster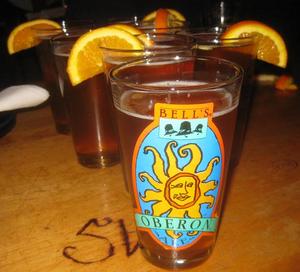 David Bardallis | Contributor
Oberon, the summer wheat ale produced by Kalamazoo's Bell's Brewery hit shelves and taps across the state to much fanfare Monday. According to Forbes' Micheline Maynard, more than 60 Michigan bars celebrated by throwing "Oberon Day" parties.
At least one Michigan beer lover isn't buying into all the hype, however. Entertainment reporter John Serba expressed his dissatisfaction with the beer Tuesday in a column on MLive. Explaining that the beer hasn't tasted as good since the named changed from "Solsun" and it started being produced in larger batches, Serba said that his new slogan is "Oberon - I'm Over It." You can read the full column here.
Over on the Guyism blog, Oberon lovers celebrated the release with "9 terrible haiku to celebrate Bell's Oberon release day," written on napkins and scraps of paper.
What about you? Do you toast spring with a nice cold glass of Kalamazoo's finest, garnished with a slice of orange? Or does the whole spectacle leave a bitter taste in your mouth?
Jessica Webster leads the food section for AnnArbor.com. You can reach her at
JessicaWebster@AnnArbor.com
.