Posted on
Fri, May 20, 2011 : 9:07 a.m.
Paparadelle with Asparagus, Peas and Chard
By Peggy Lampman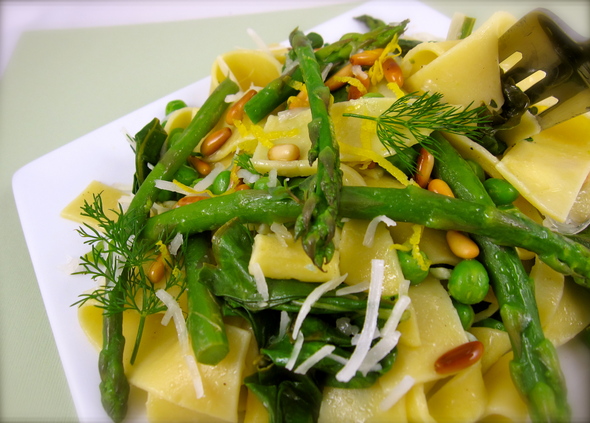 Peggy Lampman | Contributor

Peggy Lampman's Friday dinnerFeed
Last week I blogged about a Spring Green Risotto and the taste still lingers on my palate. I'd prefer something similar, yet simpler to prepare.
Paparadelle with hold its own under the weight of all of these vegetables. I saved myself the trouble of three pots of water and cooked the asparagus with the paparadelle. If you use the locally produced Al Dente brand, the cooking times are fairly close — asparagus cooks a bit quicker according to its width.
I drained them both in a colander with frozen peas. If using fresh peas, you will need to cook them separately.
Yield: 4 servings
Time: 25 minuts
Ingredients
1 cup frozen peas
12 ounces paparadelle pasta
2 tablespoons extra virgin olive oil, divided
1/4 cup pine nuts
1 bunch (8 cups) chopped chard, stems separated from leaves and washed
1 teaspoon finely chopped garlic
1 pound asparagus of similar width, stem ends snapped or cut off
Zest and juice from 1/2-1 lemon
3 tablespoons chopped fresh herbs, such as basil, dill, thyme or marjoram
Grated cheese, such as Manchego, Parmesan or Romano
Directions
1. Place peas in a colander in the sink. Bring a large pot of salted water to a boil. Boil pasta, according to package directions; add asparagus in the last 1-2 minutes of cooking time (1 minute for slender asparagus; 2 minutes for thicker stalks.) Drain pasta and asparagus over frozen peas in colander; the hot water will cook the peas.
2. While pasta is cooking, heat 1 tablespoon oil to medium heat. Cook pine nuts until golden brown, about 3 minutes. Remove and reserve. Place chard stems in oil with garlic and sauté until slightly limp, 2- 3 minutes. Add chard leaves and cook until tender, an additional 2 minutes.
3. Combine pasta, asparagus, peas, pine nuts and remaining olive oil with chard. Stir in zest and juice from half lemon, herbs and season to taste with kosher salt, freshly ground pepper and additional lemon zest and juice, if needed.
4. Ladle pasta onto individual plates or dishes and serve with grated Manchego cheese.
Looking for a specific recipe? Click here for dinnerFeed's recipe search engine; type the recipe or ingredient into the search box. I am a real-time food writer and photographer posting daily feeds on my website and in the Food & Drink section of Annarbor.com. You may also e-mail me at peggy@dinnerfeed.com.